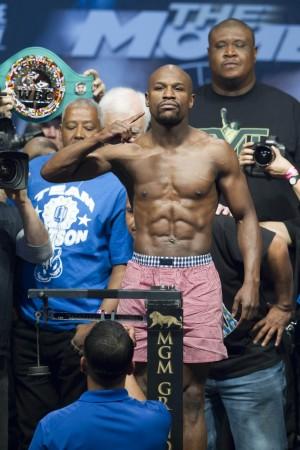 Both boxers, Manny Pacquiao and Floyd Mayweather are aware of the task that lies ahead of them on 2 May at MGM Grand in Las Vegas. They would be involved in a fight, which has been billed as one of the biggest bouts that the world had been eagerly waiting.
Both the camps have already begun their preparations for the mega fight. Mayweather's camp seems to have done their homework very well, as Pacquiao is a southpaw, hence Mayweather will use Zab Judah as a sparring partner, who is also a southpaw.
So, Mayweather is expected to be well prepared to take on Manny Pacquiao.
But, that does not seem to be a cause of concern for Pacquiao's adviser, Mike Koncz, who feels there is no one who can do what the Filipino is capable of inside the ring.
"We don't care about it," told Mike Koncz to Manila Times.
"Nobody in this world can do what Manny [Pacquiao] does inside the ring. Zab Judah is a southpaw just like Manny, but he can't be like Manny in many ways that's why we are not bothered."
But, Judah did not let out any details about Pacquiao's training, which will take place under the watchful eyes of Freddie Roach, one of the best known boxing trainers of the world.
Freddie Roach also suggested recently that he has some game plans for Manny and the Wildcard Gym, where the Filipino will be training shall remain shut, but he did state that Pacquaio has to throw more punches at Mayweather.
"Everything is fine and great. Thats what all I can say. I dont want to act rude with somebody but we lockout Mannys training and I can't discuss anything more to you about it. I know you people will understand it," added Koncz.
Both the camps will try to bring out the best of their respective boxers, for this fight at MGM Grand is also the biggest fight of their life, which was first expected to take place in 2010, but failed.
The fight was finally made official by the end of last month, after weeks of negotiation. Had the fight not taken place this time around, one would have never seen these boxers inside the same ring, trading punches, considering their age as well. Pacquiao is 36, while Mayweather is 38.