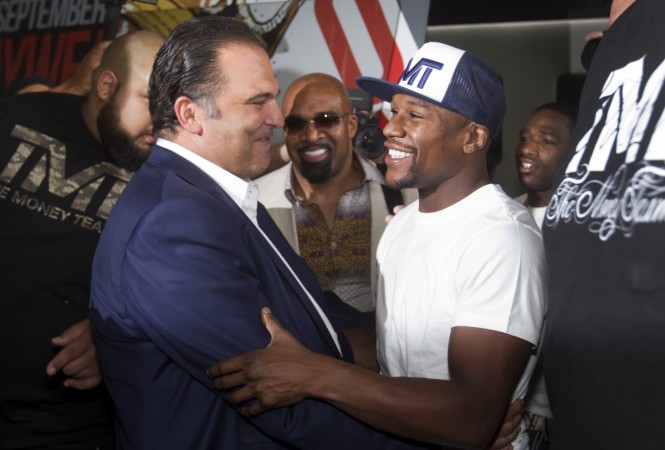 People around the world, including boxing experts, feel that the bout between Floyd Mayweather and Manny Pacquaio could have been bigger if they fought around five to six years ago.
In fact, the Filipino and the American were expected to face each other in 2010, but negotiations could not be finalised, resulting in the bout's cancellation. The Filipino is said to have rejected Mayweather's demand of random drug testing during the time.
For the bout, which has been scheduled for 2 May at MGM Grand in Las Vegas between the two boxers, Pacquiao has primarily agreed to all the demands that had been put forward by Mayweather's camp. The deal was only finalised last month, after months of negotiations.
Meanwhile, former Golden Boy Promotions CEO, Richard Schaefer feels that the bout is bigger now than it could have ever been.
"I can't really talk to you as a promoter or a matchmaker because I have nothing to do with the fight. But what I can tell you, based on my knowledge of the sport – I do think that the fight is bigger than it could have ever been – because we are living in an economic environment that is better now than it has ever been in the last seven years or so, in the United States and the world," Schaefer told BoxingScene.com.
He feels that with money readily available, people around the world would be eager to buy the pay-per-view as well.
"Money is more readily available now than it was in the last seven years. What that does is, I think, is there will be more people buying the pay-per-view, they are going to be able to get away with bigger pay-per-view prices, bigger ticket prices, etc. I think the financial pot is going to be bigger than it ever could have been in the last seven years."
The fight is expected to shatter all box office records in boxing history.
But one also has to understand that the former CEO has given a different perspective to the entire episode as he has highlighted the economic aspect, but what about the quality of the bout, which many people around the world feel could have been great four to five years ago.
There is no doubt about the quality in the offing, for the boxers are genuine champions and are born to win. They hate to lose and they might consider this 2 May bout as the biggest day in their professional career.
The winner of the bout could well be considered as the greatest boxer in their category, which has been an ongoing debate and this 'fight of the century' is expected to put that question to rest.