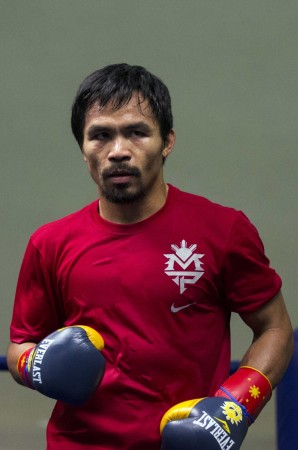 The much awaited Floyd Mayweather-Manny Pacquiao clash on May 2 could just be a matter of time with both the boxers showing a personal interest in the bout.
If Mayweather let his intent know via a video post over the social networking site, Instagram, his opponent Pacquiao, in an interview with Fox News, stated he believes that the fight will happen.
"I'm thinking that the fight will happen," said Pacquiao.
"So hopefully by, within one week, we can hear from them and fix the fight...I don't want that [the fight not to happen] when I retire boxing, and there's a big question to the minds of the fans."
It was only recently where both the champions were said to have met in a hotel to discuss about the bout, with Mayweather leaking a small clip on Instagram.
In the video, Mayweather's seriousness about the fight can be known, where he has said: "I congratulate him [Pacquiao] on his career.
"He had a wonderful career and I had a wonderful career, but before we leave the sport, of course we have to make this fight happen."
Boxing fans all around the world want the fight to shape up as well.
Though the intent of the boxers have been known, the pressure falls on two networks, HBO and CBS-owned Showtime, who seem to have been a major obstacle for the fight, though HBO has clearly stated that they are not an impediment to the fight.
Pacquiao is contracted with HBO and Mayweather with Showtime.
Just a few days ago, Bob Arum, Pacquiao's promoter, stated that both the networks have agreed to a deal, but Showtime boss Stephen Espinoza made it clear that a deal had not been completed.
Several media reports have claimed over the past 10 days or so that the personal deals for the bout between the two boxers have been agreed, including a better financial share for the American in the tune of 60-40.
No matter how much HBO says that they are not an obstacle, it is the network deal, which has failed to see the fight given the green light.
The biggest obstacle is the terms for the delayed broadcast of the joint pay-per-view.
Despite the disagreement, both the networks know the profit that they could make from the fight, so the networks are expected to come to a common agreement in the end.