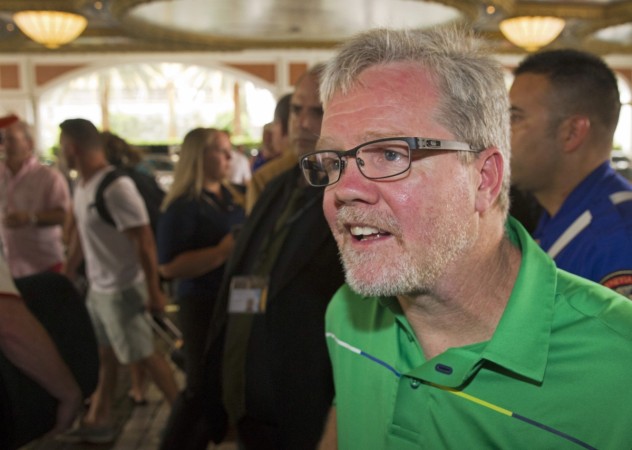 It is Manny Pacquiao's trainer Freddie Roach who has been talking a lot about the bout on 2 May at MGM Grand in Las Vegas when the Filipino will take on American Floyd Mayweather.
Both the boxers have started intense training with their respective trainers along with their sparring partners. Mayweather is said to be showing some fine skills inside the ring against his sparring partners.
But the Filipino is not to be left behind. Pacquiao has been fighting his sparring partners with the same intensity. People involved in Pacquiao's camp seem to have selected boxers with similar fighting style to that of Mayweather, as it is going to keep the Pac-Man ready for his bout.
Freddie Roach said that he got the guys he wanted as sparring partners for the fight of the century.
"We selected good young fighters, undefeated fighters. We got one kid from Finland, he's 24-1. We got one kid from Chicago, he's 8-0. We had one kid from Boston but he didn't work out, he can't make it so we guy (got) a guy from St. Louis," Roach said On The Ropes Boxing Radio.
But the Hall of Fame trainer also did concede that he has got too many sparring partners as well. Still one can expect the trainer to make use of these boxers strategically to improve upon the performance of Pacquiao.
But, the trainer is very particular on one boxer, whom he considers to be his secret weapon.
"I have one that I'm gonna use in the last two weeks is one that used to work at Mayweather's gym and was part of Mayweather's camp. He does the style really well, he's my secret weapon right now, he's my secret weapon right now."
The trainer intends to keep this fact a top secret and the boxer stays with Roach himself and talks about the strategy all night.
"He's staying at my house, we talk about strategy all night long, we watch film all night long and he said that Mayweather had disrespected him and they kind of just threw him aside, so I took him on."
Though both the boxers might be training with their partners in full capacity, people involved on both sides of the camps know that the boxer, who fights on the given day will win the bout.
However, these trainers and the high intensity training will keep them in perfect shape and confident for the mega bout.