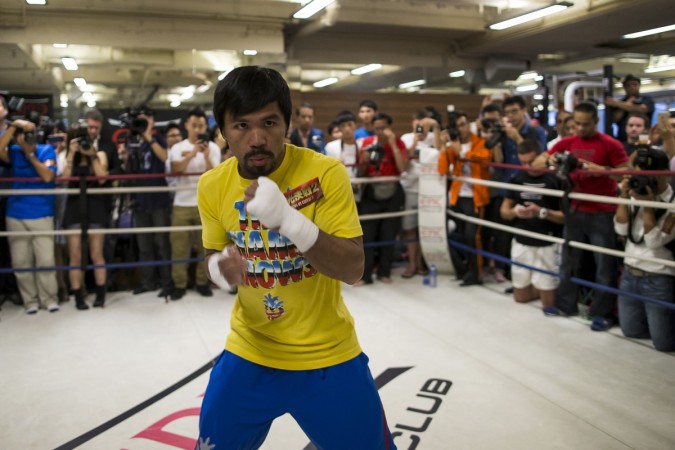 Manny Paquiao is clearly not bothered with reports, which suggest that his opponent for 2 May at MGM Grand Floyd Mayweather knocked out his sparring partner with a body shot.
The Filipino has rather taken a dig at the American hoping that Floyd would be man enough to take some risks when the fight of the century takes place. He also stated that he should be aggressive during the fight.
"I hope the reports were true. He should be aggressive during our fight so we can make the fans happy. We all knew how he fights. In fact his previous fights lulled me to sleep," Pacquaio told philboxing.com.
Mayweather's camp may have been caught by surprise with the Filipino's statement.
"His previous fights bored me. I hope, this time he would be man enough to take some risks. He should prove to the world that he's a real and fearless fighter, not a runner," Paquiao added.
The boxing fraternity is aware of the skills of both the boxers and the record they possess. If Mayweather possesses a good defense, Pacquiao is regarded as a swift boxer, who moves inside the ring in a matter of seconds, which could make Mayweather's life difficult on 2 May.
While there are a number of boxers and experts who have sided with Mayweather, some have chosen Pacquiao and there is no doubt that the fight is going to be a close one.
Both the camps have already started their preparations for the mega bout with the Filipino already having started his training with Freddie Roach, one of the respected trainers in the sport of boxing. Pacquiao's trainer already has some game plans to tackle Mayweather.
With so much at stake, expect both the boxers to give it their all as if there is no tomorrow. Both the boxers have an impressive record in their professional career with Mayweather having a cent percent record and the Filipino having won 57 out of his 64 bouts.
The fight between the two is one of the most anticipated fights in boxing history and boxing fans around the world are expected to be entertained by the quality bout in the offing, which is expected to shatter all box office records.
"This fight should live up to its billing. We owe this to the fans. They should get the kind of entertainment they want," Pacquiao said.