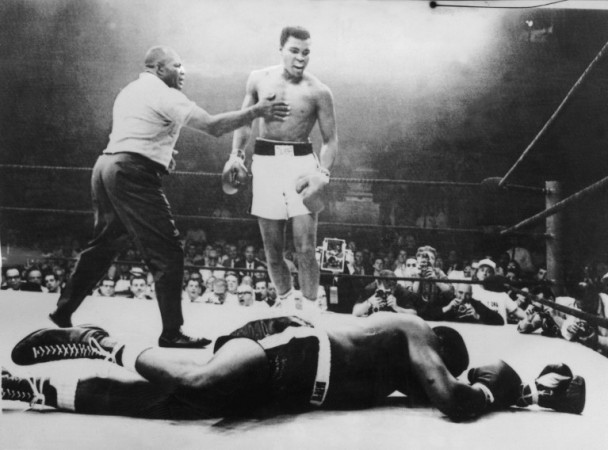 Bollywood celebrities, including Rishi Kapoor, John Abraham, Abhishek Bachchan and Kunal Kohli, took to Twitter to express their grief and shock over the death of "The Greatest" Muhammad Ali.
Former world heavyweight champion Muhammad Ali, who had been hospitalised following respiratory problems, died on Friday at a hospital in Phoenix, Arizona. The legendary boxer was 74.
"After a 32-year battle with Parkinson's disease, Muhammad Ali has passed away at the age of 74," spokesman Bob Gunnell said on Friday, according to IANS.
Check out rare and unseen photos of the legendary boxer here.
Bollywood and television celebrities took to Twitter to pay condolences. While some celebrities posted his photo with RIP #MuhammadAli tweet, several others posted his quotes remembering the legendary boxer.
Here is what celebrities said:
Rishi Kapoor: RIP. Muhammad Ali.Was at a function with him in Bahrain think early 80's. He was unwell and he called me"pretty boy"
John Abraham: "Float like a butterfly , sting like a bee" sad sad sad day #MuhammadAli
Bipasha Basu: Prayers for the great #MuhammadAli !Rip
Abhishek Bachchan: Rest in peace legend @MuhammadAli #FloatLikeAButterfly #StingLikeABee #GOAT Crushed! @MuhammadAli was the 1st sportsman I was told about by @SrBachchan. He was inspirational and an idol.
Lata Mangeshkar: A legend no more- Muhammed Ali..
Had the privilege of meeting him on a flight to London with my niece, Rachana.
She is a big fan and insisted on this picture..
Ayushmann Khurrana: "I'm so fast that last night I turned off the light switch in my hotel room and was in bed before the room was dark." - #RIPMuhammadAli
Jackky Bhagnani: The greatest that ever was. Eloquent, colorful, controversial and simply brilliant. THE #MohammedAli. RIP Cassius Clay
Raj Nayak: Catch me if you can .. He floats like a butterfly & stings like a bee.. RIP #MohammedAli #BoxingLegend
Rana Daggubati: Woke up to the worst news!! Strength to the Greatest!! #MuhammadAli #GreatestOfAllTime
Sajid Khan: R.I.P. Muhammad Ali...the greatest boxer of all times...
Kunal Kohli: #MuhammadAli #rip the greatest boxer n sportsman. Celebrate his life n achievements #inspiration
Manish Paul: The man who inspired thousands...the man with courage...the man who showed wat never giving up was all about...u will be missed...RIP... #mp#sad#ali#rest #in#peace#legend
Pooja Bedi: How sad that legendary #MuhammedAli is no more... The journey ends.. but his legend lives on...."float like a butterfly sting like a bee"
Karan Tacker: RIP to the champ #MuhammadAli , you will be missed.
Neha Dhupia: RIP #muhammadali the world jus lost one of its greatest ... #cassiusmarcellusclay
Ashwin Mushran: More than just a sportsman...Much more. How we idolised him as kids - #MuhammadAli
Shibani Dandekar:'I know where I'm going and I know the truth, and I don't have to be what you want me to be.I'm free to be what I want' RIP Muhammad Ali
Athiya Shetty: RIP. #MohammedAli
Saqib Saleem: RIP champ #TheGreatestOfAllTime
Farhan Akhtar: @MuhammadAli Never before-Never again. RIP Champ.