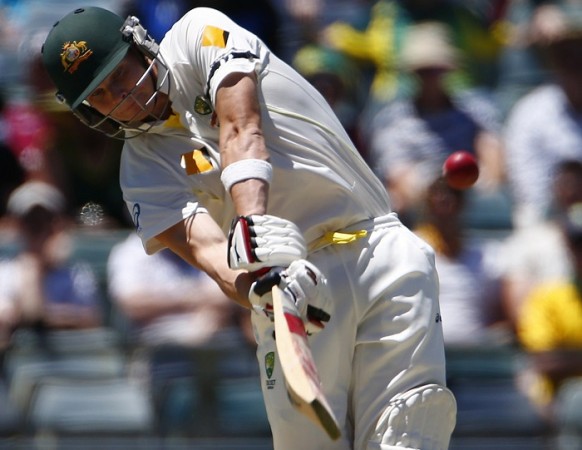 India, try as they might, cannot figure out a way to dismiss that Aussie willow-wielder, who just scores runs, runs and more runs, and in brilliant fashion as well. Everyone else, the bowlers at least look like they can dismiss, but when it comes to Steven Smith it is a no contest.
Smith was in the mood yet again, leading from the front for Australia with another glorious knock, a knock which helped the home team pull out from what could have been seriously troubled waters after India's bowlers showed they do have the wicket-taking powers in them, every now and then.
Australia were in cruise mode after Chris Rogers and Shane Watson put on a century partnership for the second wicket following the early loss of David Warner, but India fought back brilliantly in the final two sessions, dismissing the settled duo, before sending Shaun Marsh and debutant Joe Burns packing as well to set the game up nicely on day one of the Boxing Day Test in Melbourne.
The day would have been firmly India's, had the bowlers managed to even remotely trouble Smith, who, unperturbed and unfettered, glided his way to 72 (158b, 4x4, 1x6) to help Australia to 259 for five in 90 overs at stumps. Brad Haddin (23, 53b, 1x4, 1x6) is at the other end after battling it out and refusing to give his wicket away under a short-ball barrage.
Both teams will look back on the day as a we-could-have-really-taken-firm-control-of-proceedings day, with Australia thanking Smith for yet another gutsy innings under trying circumstances, when his wicket could have really opened the path for the bowlers to scythe through.
Earlier, India made the kind of start that you dream of making in a Boxing Day Test match at the Melbourne Cricket Ground, sending David Warner -- the man who has made scoring hundreds look like having a cup of tea on a Sunday morning -- back for a duck, before that over enthusiasm from the bowlers allowed Rogers and Watson to swing their bat along the merry MCG way.
Smith won the toss and batted first in front of 70,000 fans at Australia's most famous ground, and after that trying start via the wicket of Warner, Rogers and Watson caressed the red cherry with great glee to take Australia to 92 for one in 28 overs at Lunch, before extending that partnership 115.
Then came the double strike which invariably comes the bowling team's way if they break a big partnership, with Rogers (57, 126b, 5x4), first, sent packing by Mohammed Shami, who induced a small tickle to MS Dhoni behind the stumps. Watson (52, 89b, 4x4), after making his highest score of 2014, then fell an over later as a premeditated sweep attempt off R Ashwin went wrong with the ball rapping the pads.
Smith and Marsh took Australia to 174 for three in 59 overs at Tea, before, Marsh (32, 83b, 4x4) was picked up by Shami (17-4-55-2) early in the final session, via another outside edge. Burns (13, 27b, 2x4) came in and looked good in his time in the middle, playing a couple of now-that-was-nice shots, but a pull shot that only found an under edge off Yadav (20-2-69-2) ended his innings prematurely, leaving Australia walking on a tight rope at 216 for five.
However, with the impregnable Smith at one end, all Haddin had to do was survive the final 19 overs of the day, which he duly did.
The day could not have begun better for India after losing the toss, with Umesh Yadav getting one to pitch on a good length, get a bit of extra bounce and movement off the pitch and take that outside edge of Warner (0, 6b) for Shikhar Dhawan to complete another smart catch in the slips.
That put Australia on none for one, and India, who gave KL Rahul a debut in the place of Rohit Sharma, only looked to tighten the screws with a third straight maiden over, putting all the pressure back on the Aussie batsmen.
However, this India bowling lineup showed their inexperience again, getting a little too excited with the bright early start and with it losing their shape and line a little and allowing Rogers and Watson to bring their team back.
Rogers was the main man with the bat for Australia early on playing a couple of gorgeous straight drives for fours much to the delight of the huge Boxing Day crowd. Watson took his time a little, but India let him off the hook by bowling too straight too often, in their endeavour to get that lbw he is so prone to, and with it allowing him to ease the ball to the leg-side at will.
The longer the two stayed at the crease on the brownish looking MCG pitch, the easier the runs flowed, with Watson, soon enough, finding his mojo in great style to play an ODI-like innings as India's bright start vanished without a trace.
That trace might have just returned a touch just before Lunch had Dhawan, the one Indian fielder who has actually looked like a natural slip fielder, hung on to a catch which would have dismissed Watson on 37 and given Shami, who was extremely disappointing early on after being brought in for Varun Aaron, a morale-boosting wicket, but it was not to be as India went back into the dressing room wondering, yet again, about what might have been.
The next two sessions saw India fightback gallantly with the ball, on a pitch which did not really have much to offer, and had it not been for Smith, Australia might have been in some serious trouble -- of course, Mitchell Johnson might have just come in and smashed the leather all over the field again as well, but we will have to wait to see if that happens again until Day 2.