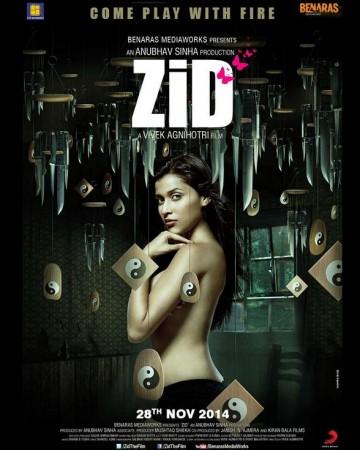 Priyanka Chopra's sister Mannara's debut film "Zid" will clash with Emraan Hashmi's "Ungli" at the box office this week. While "Ungli" is produced by Karan Johar, "Zid" is produced by Anubhav Sinha.
Zid
The erotic thriller has managed to garner audience attention despite starring newcomers. The film features Priyanka's sister Mannara in the female lead role.
The film first made it to the headlines due to its poster and trailer. Mannara's topless poster, which was released last month, went viral on social media. Even the trailer of the film managed to gain viewers' attention.
The songs of the film have become popular as well, which will work in the film's favour. Going by the bold content, Vivek Agnihotri's directorial film is expected to dominate single screens on day one.
Expectations are riding high on Mannara's Bollywood debut film, but the content and reviews will decide the fate of the film at the box office.
Ungli
Emraan Hashmi's "Ungli" is also carrying positive vibes as it is helmed by Dharma Productions. The film features notable actors including Emraan, Sanjay Dutt, Kangna Ranaut and Randeep Hooda, which makes it one of the most awaited films of the year.
However, more than stars, content is what catches the eye of the audience. The promotion of the film has been decent, while the songs haven't struck the right cord with audience, except for "Pakeezah" and "Dance Basanti".
The film is expected to have an average occupancy on day one and the collection will rely mostly on positive reviews and word of mouth. Also the lead actor Emraan's last three films have flopped at the box office, due to which trade experts are not expecting a huge amount from the film on day one.
Overall, both the films belong to different genre and with no competition from previous films they are expected to open well. But it remains to be seen if the films will be able to kick up a storm at box office.