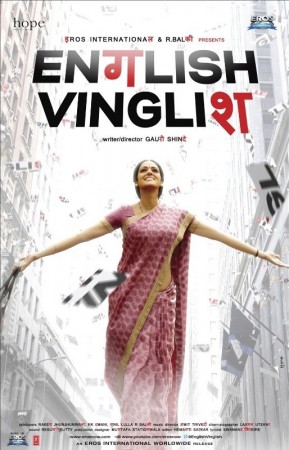 Sridevi's latest family drama "English Vinglish" has been well received by moviegoers and critics alike, recording upscale business in its very first week.
Filmmakers and stars invest a lot of time and money in promoting their films in a bid to draw more audiences to the cinemas. Most films fare well at the box office in spite of no grand promotional campaign. Word-of-mouth coupled with an advertising strategy is touted to be quite an effective way to sell a movie, and small-budget movies have often benefited from this. Sridevi's "English Vinglish" is particularly cashing in on this strategy.
"English Vinglish", which started off on a sluggish note at the box office, is running well across theatres while racking up a decent collection much to the delight of its filmmakers who vested their beliefs and money in making a movie solely based on a good script rather than on masala elements to lure audiences.
The film's box office weekend collection is estimated to be about ₹13.06 crore. According to film critic Taran Adarsh's estimation, the film collected ₹2.5 crore on Friday, ₹4.4 crore on Saturday and ₹6.16 crore on Sunday.
Meanwhile, "OMG Oh My God" is also considered a super hit, given that its second-weekend collection is nearly close to ₹50 crore. Despite being made on a small budget, the film struck gold at the box office window.
The Paresh Rawal and Akshay Kumar starrer collected ₹2.9 crore on Friday, ₹4.2 crore on Saturday and ₹5.4 crore on Sunday, taking its total collection to ₹49.5 crore, said Adarsh.
Anurag Basu's much-praised "Barfi" hasn't stopped cash registering at the box office, collecting ₹6.5 crore in the fourth weekend. Adarsh estimated that the film's total collection reached ₹112.15 crore, beating this year's "Housefull 2" business.