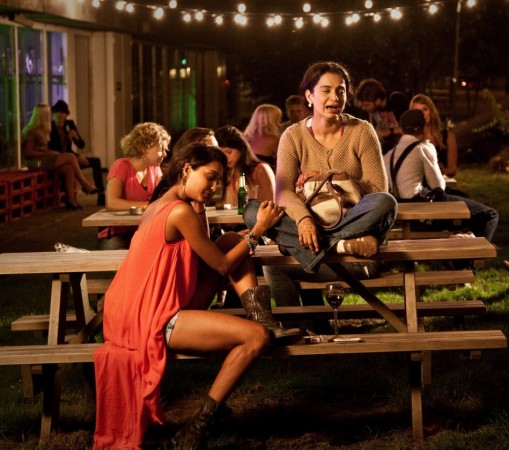 "Queen" is ruling the box office world with its fantastic performance, while other films including "Bewakoofiyaan", "Total Siyapaa" and "Gulaab Gang" have average performances.
Vikas Bahl's directorial film "Queen" had a mediocre start in international arena, but in second week the film picked up its pace and race ahead of other release.
Yash Raj production "Bewakoofiyaan" was supposed to dominate the overseas market since it is a new release with overseas friendly genre (romantic comedy) and produced under big banner of YRF, but unfortunately the film failed to make an impact.
Like Indian markets "Queen" is now dominating overseas market too.
Queen
The women oriented film starring Kangana Ranaut and Rajkumar Rao in the lead role is doing better than first week at domestic as well as overseas market.
In India, the second week four day total is higher than first week total.
The four days first week total of the film is ₹12.05 crore, while the second week is ₹13.15 crore. Meanwhile, the 11 days domestic total of the film stands at ₹32 crore nett.
"#Queen [Week 2] Fri 2.15 cr, Sat 3.75 cr, Sun 4.75 cr, Mon 2.50 cr. Grand total: ₹32 cr nett. India biz," trade analyst Taran Adarsh tweeted.
From international market, the comedy drama film minted more than ₹5 crore from 10 days run. The film has shown growth in almost all the circuits in international arena.
It raked in ₹2.73 crore ($446,137) from US, ₹50.71 lakh (US $83, 015) from Canada and ₹1.61 crore (AED approx 969,600) from UAE-GCC, according to Adarsh.
Bewakoofiyaan
Ayushmann Khurrana, Sonam Kapoor and Rishi Kapoor starrer "Bewakoofiyaan" is facing tough competition from previous week release "Queen" in India and internationally.
From Indian markets, the romantic comedy film made an income of around ₹9.37 crore, while from overseas market it earned ₹1.08 crore approximately.
Here is the India and overseas breakup of the film:
Domestic: Friday ₹2.23 crore, Saturday ₹2.51 crore, Sunday ₹2.57 crore and Monday ₹2.06 crore.
Overseas: US ₹28.64 lakh ($46,888), Canada ₹12.74 lakh (US $20,850), UK-Ireland ₹34.12 lakh (£33,620), Australia ₹12.28 lakh (A $22,145) and New Zealand ₹6.56 lakh (NZ $12,558).
Total Siyapaa
Ali Zafar and Yami Gautam's romantic comedy film has received very good response from audience in international market compared to domestic box office.
The film dominated the overseas market in its first week, but in second, the film came to second spot. UAE-GCC and Pakistan box offices contributed its best in the overseas collections.
From the US it minted total ₹55.70 lakh ($91,189), from Canada ₹15.30 lakh (US $25,052), from UAE-GCC ₹1.27 crore (AED approx 762,970), from Australia ₹26.58 lakh (A $47,953), from New Zealand ₹4.35 lakh (NZ $8,314) and Pakistan ₹1.13 crore (PKR 1.84 crore).
Gulaab Gang
The women oriented film featuring Madhuri Dixit-Nene and Juhi Chawla has dropped drastically in major markets. The film had a low first week and due to "Queen" and new releases, the film sank in international markets.
Here is the breakup of the film from overseas market: US ₹38.76 lakh ($63,465), Canada ₹17.55 lakh ($28,738), UAE - GCC ₹69.33 lakh (AED approx 417,650), Australia ₹18.09 lakh (A $32,635) and New Zealand ₹6.43 lakh (NZ $12,299).
Other Films
Farhan Akhtar and Vidya Balan's "Shaddi Ke Side Effects," Shah Rukh Khan's "Chennai Express" and Irrfan Khan's "The Lunchbox" are still running in overseas box offices.