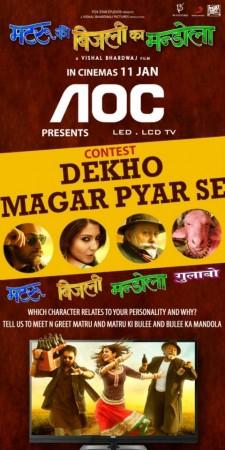 Political satire "Matru Ki Bijlee ka Mandola" is struggling hard at the box office to fetch in some good collections.
The romantic comedy movie, which is directed and produced by Vishal Bhardwaj, has raked in ₹4.95 crore in its second weekend. The collection of the film, which stars Pankaj Kapoor, Anushka Sharma and Imran Khan in the lead roles, declined sharply in first week despite no major release.
The 10-day grand total of the film in India stands at ₹38.10 crore.
The film is struggling hard to survive in the key markets at overseas box offices as well.
In its second weekend the film collected ₹13.07 lakh (£ 15,329) from the UK, ₹48.57 lakh ($ 90,208) from the US, ₹8.50 lakh (A$ 14,942) from Australia and ₹2.61 lakh (NZ$ 5,771) from New Zealand.
While the earnings of "MKBKM" is declining sharply at box offices, another movie "Inkaar" released last week failed to start off on an average note.
The film featuring Arjun Rampal and Chitrangda Singh had a very dull opening and failed to pick up over the weekend.
It grossed approx ₹6.35 crore in its opening weekend in India. The collection was much better on Sunday, but it declined considerably the following day.
The four day total of the film is ₹7.90 crore. On the overseas front, the movie was released at only the UAE box office where it had a lacklustre opening.
Also Read:Box Office Collection: 'Matru Ki Bijlee Ka Mandola' Going Steady; 'Inkaar' Fail at the BO