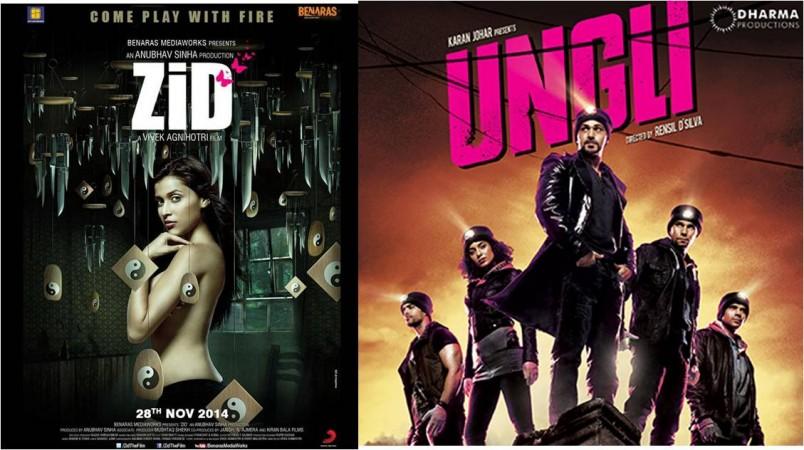 Mannara's "Zid" showed good performance during the opening weekend, while Emraan Hashmi's "Ungli" failed to show growth.
The erotic film directed by Vivek Agnihotri minted ₹8.68 crore in its opening weekend from domestic box office.
The three days breakup of the film according to Bollywood Hungama is: Friday ₹2.82 crore, Saturday ₹2.74 crore and Sunday ₹3.12 crore.
The film had a decent opening and it continued to run well on Saturday and Sunday. The film, which features Priyanka Chopra's cousin Mannara, has managed to attract audience due to its hype.
"Zid" performed well at single screens, but even multiplexes contributed in its opening weekend collection. The film has been made on a budget of approximately ₹15 crore, which the makers will earn by second weekend.
The lead actress of the film tweeted that she is happy with the box office performance of the film. She also thanked the entire "Zid" team and fans for making it a successful film.
"I'm overwhelmed with the success of my movie Zid. Thank You to my entire team of Zid and my fans. #Zid #Zidthefilm," Mannara tweeted.
Ungli
Emraan's "Ungli", which had a better scope at the box office, minted only ₹12.8 crore. The film had an average opening weekend in India.
The opening weekend breakup is: Friday ₹3.6 crore, Saturday ₹4.15 crore and Sunday ₹5.05 crore.
Although the film showed growth during the weekend, the overall total is still not up to the mark. The film, which also features Randeep Hooda, Kangana Ranaut and Sanjay Dutt in lead roles, picked its pace on Saturday and Sunday.
However, the collection of the film is much lower than Emraan's last releases "Raja Natwarlal" and "Ek Thi Dayan".
The film has been targeted at multiplexes, but had disappointing collections from there. Even the single screens theaters haven't contributed much in the opening weekend total.
Meanwhile, with Ajay Devgn-Sonakshi Sinha starrer "Action Jackson" releasing this week, "Ungli" has just four days in hand to perform better and earn the production cost.