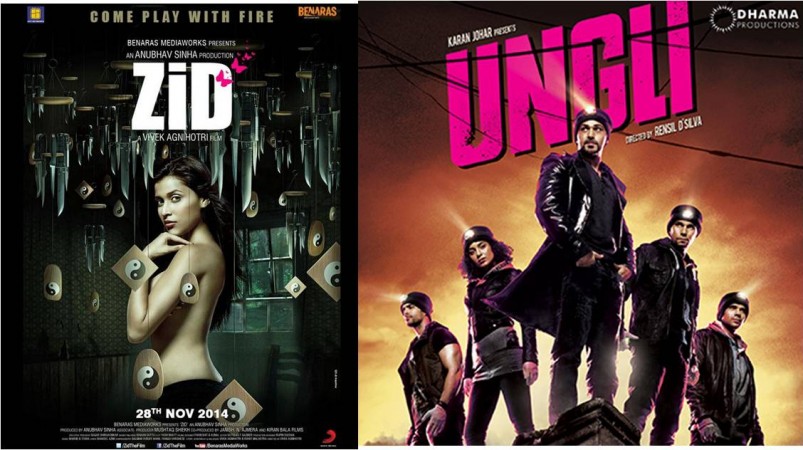 Emraan Hashmi's "Ungli" had below average opening, while Mannara's "Zid" had a decent start on Friday at the domestic box office.
Ungli
The film, which focuses on corruption, stars Emraan, Randeep Hooda, Kangana Ranaut, Sanjay Dutt and Neha Dhupia in key roles. Trade analysts expected that the film would open well, considering the star cast. But it disappointed trade pundits with below average opening.
On its opening day, "Ungli" minted only ₹3.6 crore from domestic box office.
The film, produced by Karan Johar, started on a very slow note in the morning and the occupancy remained the same in the evening and night shows. Response from single screens was decent on day one, but multiplexes could have performed better.
But since the word of mouth is strong, the occupancy is expected to increase over the weekend.
Zid
The opening day occupancy of erotic thriller "Zid" was better than "Ungli". The film did decent business on opening day in India.
"Zid" features newcomers Karanvir Sharma, Mannara and Shraddha Das in lead roles. The film has no big star value and also was not promoted heavily. But still the film managed to earn ₹2.82 crore on day one, according to Bollywood Hungama.
The first day earning has surprised several trade pundits as the pre-release buzz was not that strong. The film also received negative reviews from critics, but it didn't hamper the box office run.
As expected, the film is performing better in single screens compared to multiplexes across the country. Looking at the opening day total, one can say that the film will show positive trend over the weekend.
Meanwhile, Priyanka Chopra has praised her cousin Mannara's performance in the erotic thriller.
"She (Mannara) is extremely free. She is not conscious of herself. For the first time, I have seen her act and I can say it is a very difficult part that she has been given in the film. There are a lot of complications in her role," Priyanka said during the music launch of the film.
"Being her first film, her role in the film asked for a lot, but she lived up to it and I think this is her strong point. She has perfectly lived up to her role, according to me. I think, from the first film point of view, she is fantastic," she added.