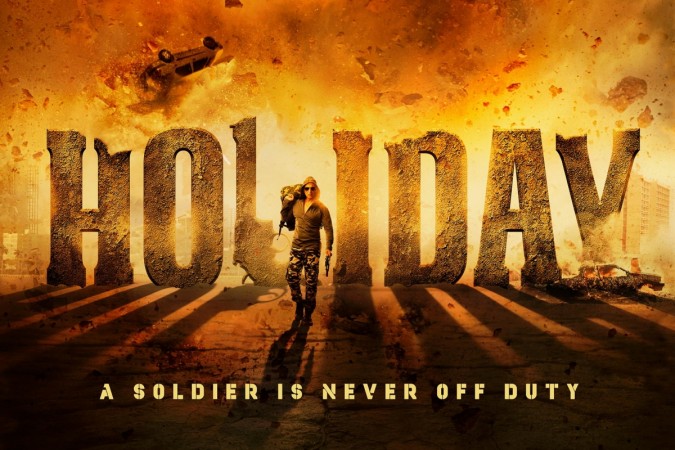 "Holiday- A Soldier Is Never Off Duty" has finished its first week at the worldwide collection centers on a good note. The action thriller has raked in around ₹85 crore from worldwide box office in seven days.
Akshay Kumar and Sonakshi Sinha starrer accumulated ₹ 68.63 crore from domestic centers and ₹ 17.01 crore from overseas.
The film maintained a very stable week one, and while the business of the film declined in India during weekdays, the drop was marginal.
"#Holiday Fri 12.08 cr, Sat 12.46 cr, Sun 16.85 cr, Mon 8.11 cr, Tue 7.10 cr, Wed 6.31 cr, Thu 5.74 cr. Total: ₹ 68.63 cr nett. India biz," trade analyst Taran Adarsh tweeted.
On the international front, the film had a decent first week. "Holiday" fared well in UAE-GCC and Pakistan centers, but the business from rest of the circuits is comparatively low.
"#Holiday Overseas total - Week 1: $ 2.853 million [₹ 17.01 cr]. Has performed best in UAE-GCC and Pakistan," Adarsh said.
Meanwhile, Farhad Daruwala, who played the role of terrorist in the film, shared his experience about his first film and how he convinced himself to play the negative role.
"I am nervous as hell. I've gone through some bad experiences. 'Holiday' was god-sent. It is a terrorist's role. And I must admit I was hesitant to do it. I didn't want to start on a negative note. But when Murugadoss Sir and Vipul Sir told me about the role of the terror master-mind I was blown away. The guy was an absolute normal working-class type. Looking at him, you'd think he worked in a multi-national firm or as a computer engineer," Daruwala told Bollywood Hungama.
"They wanted to show how terrorism is nurtured in an absolutely normal working-class atmosphere. I liked that. I decided to take it on. Not that I had much of a choice. When the role of terrorist was offered to me I wasn't exactly spoilt for choices. Out here no one takes you seriously until you are from a film family, or you have big hits. I didn't qualify on either count."
"Filmistaan" that released along with "Holiday" had excellent week one collections. The film has maintained rock-steady pace at the box offices in India.
"#Filmistaan Fri 51 lacs, Sat 1.04 cr, Sun 1.26 cr, Mon 54 lacs, Tue 56 lacs, Wed 51 lacs, Thu 49 lacs. Total: ₹ 4.91 cr nett. India biz," Adarsh tweeted the week one figure.