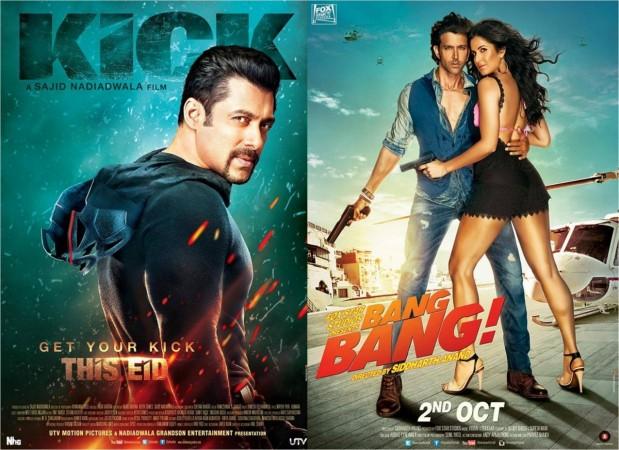 Hrithik Roshan and Katrina Kaif's action drama "Bang Bang" has become one of the commercially successful films of 2014 at the box office. The film has also become the second highest grosser of 2014 earning more than ₹173 crore.
"Bang Bang" was expected to cross the ₹200 crore mark in India with net income and beat Salman Khan's "Kick", but considering the decline in its business it's unlikely to even cross the ₹200 crore mark.
Here are few reasons why "Bang Bang" will remain second highest grosser of 2014:
Business Declines: Although the film is dominating the box office, the collection has dropped drastically in India. The film is running in its third week now, due to which the business witnessed a fall.
Screen count: The screen count of the film also declined in its third week, which has affected the earnings of "Bang Bang".
Happy New Year release: "Bang Bang" requires around ₹26 crore to cross the ₹200 crore mark and more than ₹60 crore to beat "Kick". To earn the huge amount, the film needs to pick its pace and run at the box office like it did in the first week. But "Happy New Year" might play spoilsport.
"Happy New Year" will release in 5,000 screens in India and going by that the screen count of "Bang Bang" will decline further.
Fourth week: The film will enter in its fourth week on 24 October. A film stays at the box office for mostly four weeks and ends its theatrical run after that. However, even if the film enters the fifth week it fares minimum amount. So, even if "Bang Bang" runs in fifth week it will fare minimal amount.
Word of mouth: Audience reviews play an important role and "Bang Bang" received mixed response. Since the word of mouth was not strong on opening day, the collection started to decline from second day onwards.