Ajith's and Vijay's films have often been compared by enthusiastic trade analysts as competing with each other in Kollywood. So, it is time to compare "Yennai Arindhaal" with "Kaththi".
Box office collection statistics clearly show that "Yennai Arindhaal" has failed to beat "Kaththi". Be it at domestic or international, the Ajith flick has not crossed the collections of Vijay's movie in the first weekend.
Read: 'Anegan' Fails to Beat 'Yennai Arindhaal' in Opening Weekend
While "Kaththi" had grossed ₹17.5 crore at the domestic box office, "Yennai Arindhaal" ended up making ₹14.05 crore. In Tamil Nadu alone, the gross business of Vijay's film was ₹12.5 crore, whereas for Ajith's film, it is ₹11 crore.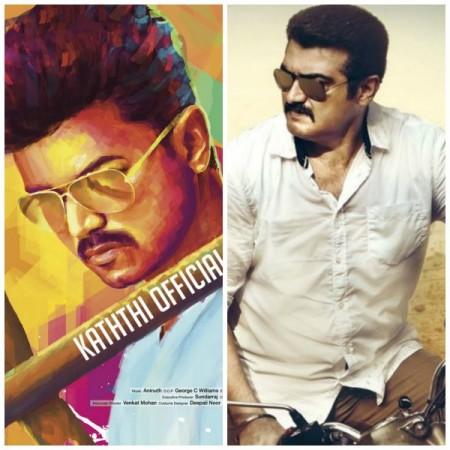 When it comes to opening weekend business, the AR Murugadoss directorial had grossed ₹71 crore worldwide from its five-day weekend. Compared to that, "Yennai Arindhaal" earned only ₹53.5 crore.
The biggest advantage that "Kaththi" had was its release during Diwali, an occasion where the audience turn out is three times higher than on other days. It enjoyed a five-day weekend to do such an amazing business.
In case of "Yennai Arindhaal", the Tamil movie was released on a normal working day. However, the trade had pinned hopes on Ajith's movie to do better in the later days. But early reports say that the film has not come closer to "Kaththi" by the end of its first week.
While the total gross collection of "Kaththi" was ₹82 crore, "Yennai Arindhaal" had earned just above ₹61 crore. Going by this trend, one could easily say that the Ajith's movie is unlikely to beat any major record of Vijay's "Kaththi".
Last but not least, "Yennai Arindhaal" is now facing competition from Dhanush starrer "Anegan", which has got a very good response from the audience and critics. This will definitely have some impact on the business of Ajith's movie.