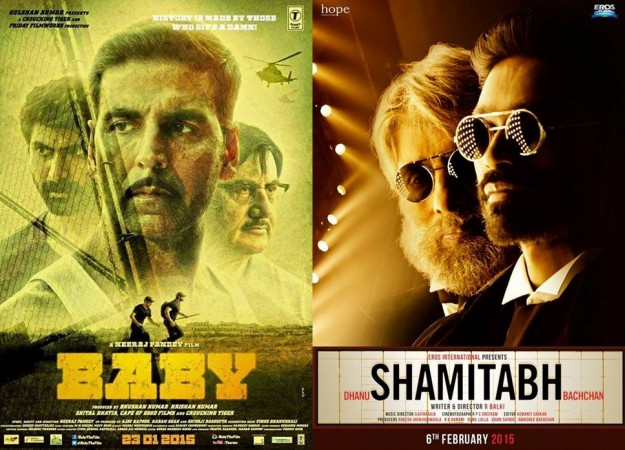 Akshay Kumar's "Baby" has taken its three weeks worldwide total to over ₹100 crore, whereas "Shamitabh" first week domestic box office collection stands at just ₹19 crore.
"Baby" has become the first film of 2015 to earn ₹100 crore from its domestic as well as overseas run.
In three weeks, the film earned ₹92 crore from Indian markets, while over ₹10 crore from overseas box office, taking its total to above ₹100 crore.
The film performed well till third week, but as it nears its fourth weekend, collection has dropped drastically due to "Roy" release. The film, which was previously expected to score a century, is now unlikely to cross that mark in India.
On the other hand, Amitabh Bachchan and Dhanush starrer "Shamitabh" had a poor debut week at the box office. Since it received positive reviews, "Shamitabh" was expected to have a good run. But it failed to do so minting only ₹19 crore in seven days.
Trade experts criticised the box office run of "Shamitabh" and said that the film could have done better.
"The drawbacks were right from a long-winding script to the execution and editing. Instead of cashing in on the idea, the film tries to cash in on Amitabh Bachchan's image. There was no curiosity for the film hence it had a weak opening day. It did have a slight improvement on Saturday and Sunday," trade analyst Vinod Mirani told Financial Express.
"The film ended its opening weekend with box office collections of around Rs 13 crore, which is not enough to help it recoup its high price," he said.
"Shamitabh hasn't performed as expected. I guess this is a very niche film and so it is not appealing to the masses," exhibitor and distributor Akshaye Rathi told the daily.