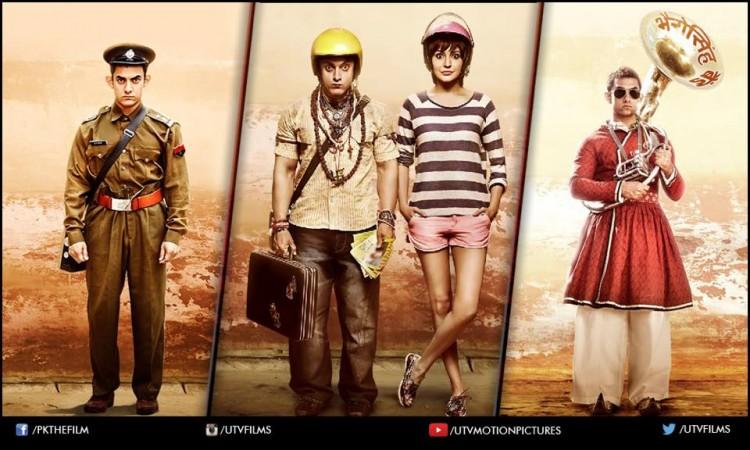 Aamir Khan's "PK" has shattered a brand new record by grossing over ₹600 crore within 20 days after its release at the global box office. The film is scaling to unused heights with each passing day at collection centers worldwide.
The 20 days domestic net earnings of the film stand at ₹317.52 crore, while the gross earnings stand at ₹457 crore. Adding the overseas box office collection total of ₹150 crore, the overall gross income of "PK" stands at ₹607 crore.
If gross income of "PK" or "Peekay" is counted, then it is highest grosser Bollywood film at the worldwide collection centers. "Dhoom 3" has secured the second spot with gross income of ₹542 crore, while "Chennai Express" is at third with ₹422 crore, according to Koimoi.com.
"PK" has pushed past all the box office records, except for overseas collection. "Dhoom 3" still remains the highest grosser Bollywood film in international market.
However, "PK" might break "Dhoom 3" record at the overseas box office by the end of fourth week.
Nevertheless, for Aamir it's a win-win situation at the top spot has been secured by his films "PK" and "Dhoom 3" in India and globally.
On the other hand, the film has made a profit of around 205 percent for the makers of Rajkumar Hirani and Vidhu Vinod Chopra. The overall production cost of the film is estimated to be ₹100 crore and "PK" earned the amount from its domestic run itself.
Hirani's directorial film made a profit of approximately ₹110 crore, following which the return on investment stands at 205 percent.
"PK is now the highest grossing Hindi film ever in India, North America, Australia and many other countries. Most importantly, the film shows no signs of letting up, with cinemas registering high occupancy rates well into the third week of release," Amrita Pandey, vice-president and head of marketing and distribution (studios), Disney India, told IANS.