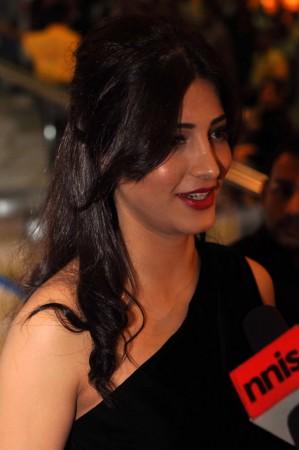 Nikhil Advani's crime thriller "D-Day" and Prabhu Deva's directorial venture "Ramaiya Vastavaiya" failed to lure filmgoers in the Indian and overseas markets.
Gangster saga "D-Day" featuring Arjun Rampal, Shruti Haasan, Rishi Kapoor, Irrfan Khan and Huma Qureshi has raked in ₹59.29 lakh from the overseas box offices after its second weekend.
In the UK, the film raked in ₹3.30 lakh [£ 3,536] from four screens, bringing its total to ₹33.59 lakhs [£ 36,780]. In Australia, it collected ₹2.22 lakh [A$ 4,034] from six screens, and it total stands at ₹20.20 lakhs [A$ 36,864]. The New Zealand box office churned out ₹14, 892 [NZ$ 305] from one screen, rounding off its total to ₹5.45 lakhs [NZ$ 11,384].
On the overseas front, "D-Day" is faring relatively better than "Ramaiya Vastavaiya", but in terms of overall collections the latter scored more.
"Ramaiya Vastavaiya" is a romantic comedy starring Girish Kumar and Shruti Haasan in lead roles. The film received good response at domestic markets, despite receiving average reviews from critics. In the international markets, it turned out to be a disaster.
In the UK, the film collected ₹1.05 lakh [£ 1,123] from four screens, and its current total stands at ₹35.09 lakhs [£ 38,426]. The film registered a total of just ₹9.40 lakhs [A$ 17,153] at the Australian box office, after earning ₹20, 560 [A$ 372] from seven screens.
Despite the slump in collections, director-cum-choreographer Prabhu Deva seems to be in good spirits and thanked everyone for the feedback and response towards his film.
"One week to #RamaiyaVastavaiya release. Thank u all for ur sweet feedback n for loving the film so much," he tweeted.