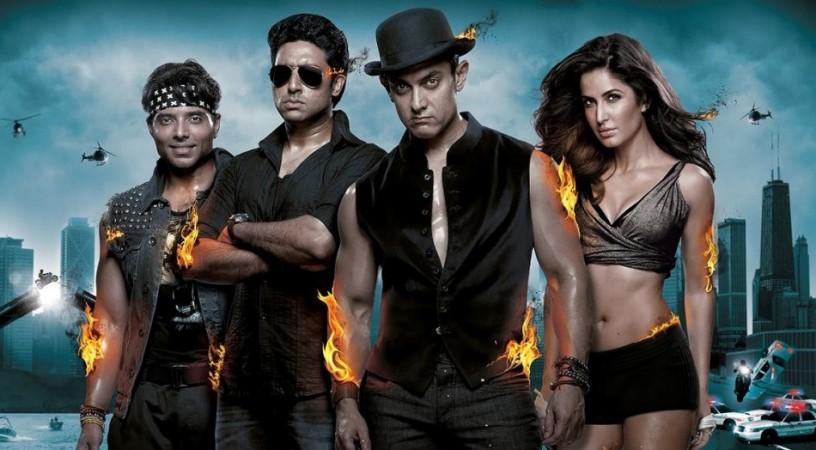 Aamir Khan ruled the box office chart with "3 Idiots" for three years until the release of "Chennai Express". The Raj Kumar Hirani-directed 2009 comedy film became the first ever film to cross ₹200 crore mark at the domestic box office in 2009 but Shah Rukh Khan's latest release broke the record by raking in ₹225 crore, becoming the highest grosser film ever in the history of Indian cinema.
Now, Aamir Khan is all set to claim the top position with his next film, "Dhoom 3" which is scheduled for release this Christmas. It took four years for "Chennai Express" to break "3 Idiots" record, but Aamir is confident that his upcoming film will shatter all previous records by the end of this year.
A source close to Aamir told DNA, "He is confident that D3 will shatter all records, in fact he has told someone close to him, '3 Idiots released in 2009 and it took them four years to break that record. And the record I set with 'Dhoom 3' will be broken by someone in 2020.' Aamir is not one to make statements lightly. If he says something, you better believe he will deliver."
Even trade analysts believe that it's possible for "D3" to break all records because of strong trade buzz.
"There are too many multiplexes growing every year, ticket rates are being hiked and the overall business is on the upswing so records will break faster. Aamir will excel again in D3. The expectations are very high. For the first time people will see him in a negative role," trade analyst Komal Nahta told DNA.
"Doom 3", which is the third installment of one of the most successful franchises, will hit the screens during Christmas holidays, a period that has been proved very lucky for Aamir.
Interestingly, "3 Idiots" was released on 25 December, 2009, and "Ghajini", which became the first film ever to cross the 100 crore mark in India, was also released during the festive season in 2008.
Now, it remains to be seen whether Aamir Khan will reclaim the title and break "Chennai Express" record!