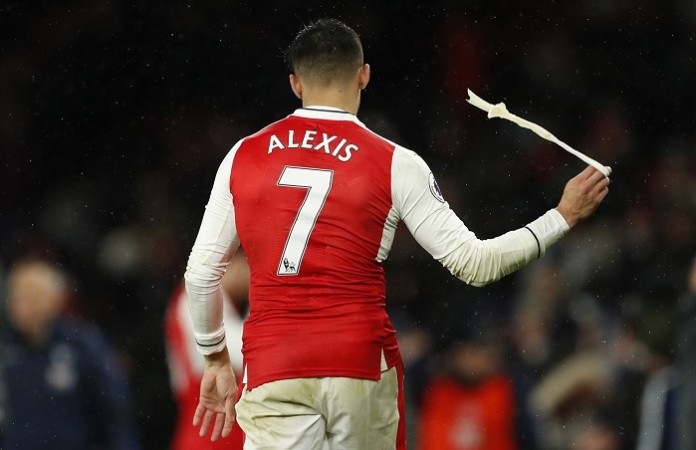 Arsenal were made to sweat for their win the last time they played Bournemouth, so Arsene Wenger will know his team will need to be at their best to pick up the three points that are absolutely necessary to stay in the Premier League title race. It won't be easy, however, with Arsenal set to play their second game in two days, while Bournemouth have had an extra day's rest.
Arsenal vs Crystal Palace highlights
Complaining about the fixture pileup will not help anyone, though, and all Arsenal can do is find enough energy and creativity to try and beat Bournemouth at the Vitality Stadium on Tuesday.
Here is a look at how the 90 minutes might go.
First half: Arsenal are slow to start the game, with Bournemouth, who are formidable opponents at home, seeing the majority of the ball. Chances, though, are hard to come by for the home side, with the absence of Jack Wilshere, ineligible to play against his parent club, blunting their creative side. That gives Arsenal the time they need to get into their groove. They manage to do that in the final 15 minutes of the first half, with Alexis Sanchez and Olivier Giroud combining to create the first real opportunity for the away side.
Sanchez plays a delectable one-two with Giroud, with the Chilean taking his strike from 14 yards out. That shot, however, is brilliant saved by Boruc, diving to his left.
Second half: With the deadlock still not broken, both teams are a little tentative to begin the second half. Bournemouth have had more rest, so you would expect them to be the stronger as the match wears on. However, it is Arsenal, knowing the importance of all three points, who show the more intent in the second 45. Sanchez, again, is the man who nearly breaks through, this time jumping onto a pass from Alex Iwobi, before firing his shot high.
Giroud, coming off a stunning goal against Crystal Palace, then nearly opens the scoring with a header off a corner that just goes wide, with Alex Oxlade-Chamberlain also failing to make it 1-0 via a shot from distance. The pressure does finally pay off as Oxlade-Chamberlain makes a run down the right, before cutting the ball back to Aaron Ramsey, who breaks his goalscoring drought with an astute finish into the bottom corner.
Bournemouth finally go on the attack after the first goal, but Arsenal stay firm at the back, giving them a third consecutive win with a clean sheet.