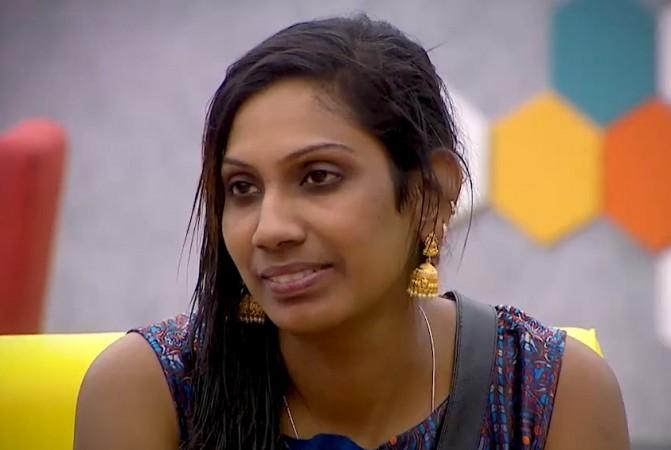 Nithya is the third contestant to be eliminated from Bigg Boss Tamil 2 house after Mamathi Chari and Ananth Vaidyanathan. She reportedly got lesser votes than the other contestants like Ponnambalam, her estranged husband Thadi Balaji and Yashika.
Although she is not a celebrity like her husband, Nithya had started winning the hearts with her honest behaviour. In the initial weeks, she was considered to be an irritating contestant, but gradually the audience started liking her .
However, the viewers and our poll were predicting the elimination of Yashika, who had secured highest number of votes in the survey. Surprisingly, Nithya, who had received lesser votes than Ponnambalam, has been evicted.
Earlier Story:
After Ponnambalam was announced safe on Saturday's episode (July 14), Yashika Aannand, Balaji and his estranged wife Nithya are facing elimination this week on Kamal Haasan's show.
The International Business Times (India edition) had conducted a poll to understand the readers' pulse about this week's elmination. Yashika has garnered the highest number of votes at 56.94 percent. It means the actress is a strong contender to be out of the show.
Ponnambalam is in the second place by getting 25.67 percent of votes, but it does not matter as he has been announced safe. He is followed by Nithya and Thadi Balaji, who got 9.32 and 8.07 percent of votes, respectively.
Yashika's proximity to Mahat is the main reason why the audience has been upset with her. It seems to have reflected in the form of votes in the poll.
Although she maintained distance from him this week, it seems like the audience is yet to accept the changes in her. Find the graph of voting below:

The 16 contestants who stepped into the Bigg Boss house on June 17 are Yashika Aannand, Ponnambalam, Mahat Raghavendra, Daniel Anne Pope, Vaishnavi, Janani Iyer, Ananth Vaidyanathan, Ramya NSK, Sendrayan, Riythvika, Mumtaz, Thadi Balaji, Mamathi Chari, Nithya Balaji, Shariq Hassan and Aishwarya Dutta.
So far, Mamathi Chari and Ananth Vaidyanathan have been eliminated from Bigg Boss Tamil 2.