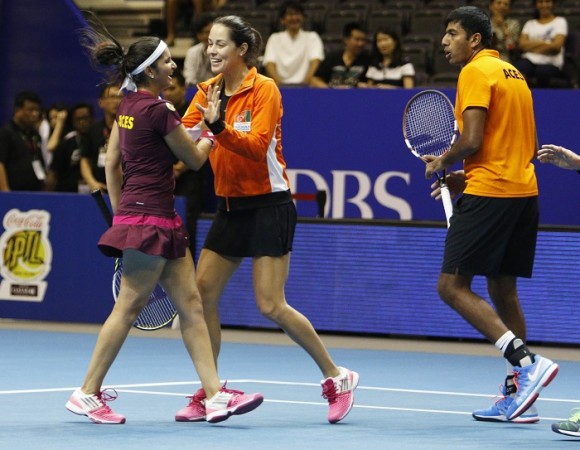 Rohan Bopanna might have given Leander Paes the snub when it came to picking his doubles partner for the Rio Olympics 2016, but as far as the former is concerned, the 43-year-old veteran is one of India's greatest ever tennis players.
Bopanna came out looking the villain after deciding against picking Paes for the quadrennial extravaganza, but with the AITA taking matters into their own hands, it looks like the two tennis players are doing everything they can to try and stay on the same page.
If they manage to do that, India have a great chance of winning a medal at the Olympics.
"If we play our best tennis we definitely have a great shot," Bopanna was quoted as saying by the Hindustan Times when asked about the duo's chances in Rio. "We do need some luck in the draw as well. One or two matches always help a team get into the groove.
"First match is never easy no matter how much you practice. When you go out on match court the energy should be together and we need to find that in those five days before the Games. We have to find a way to really fix our game styles together."
The manner in which Bopanna spoke about Paes, in the pre-match press conference ahead of the Davis Cup tie against South Korea in Chandigarh, there is certainly a lot of respect there and signs that both players are doing their best to make the best out of the situation they find themselves in.
"He (Paes) is one of the best tennis players we have for India," Bopanna added. "What he has accomplished in his career so far, nobody can take away from that. I have watched him play Davis Cup numerous times. I have been part of the team since 2002 and I think he is the best Indian tennis player we have out there."
Moreover, Bopanna did his best to try and justify the reasons behind his decision to pick the unheralded Saketh Myneni ahead of the man who has won Grand Slam titles left, right and centre.
"Nobody is questioning how good a tennis player he is. It would be stupid if someone was to question that. After he has done so much for the country," Bopanna said, before elaborating on his basis of picking Myneni.
"When I picked Saketh over Leander, it was on the basis of my previous partnerships. I have had guys who played the game with a big serve or a big weapon. That's what has suited my style. Hence, I picked Saketh who has a similar style of playing."
The pressing of the two players' relationship would not end there, however, and, again, Bopanna was forced to defend his controversial decision.
"There is nothing like that (no personal problems or ego clashes)," Bopanna said. "It's going to look that way but it was nothing to do with any personal clash or anything.
"By picking my own partners I have reached to the top-10 stage so that alone was the reason. It's just that I am picking a partner for myself and it looks like I am denying Leander his seventh Olympics.
"So obviously I look like the villain."
Bopanna will certainly turn into a hero if he comes back with a medal or two for India. The rangy right-hander will play with Paes in the men's doubles, while also partnering Sania Mirza in the mixed doubles, a partnership he believes suits his talents to a T.
"I have played with her (Sania), I know her style and again she is a partner who hits big," Bopanna said. "That's the same concept. She hits a big forehand off the ground and partners like that help bring out my best."