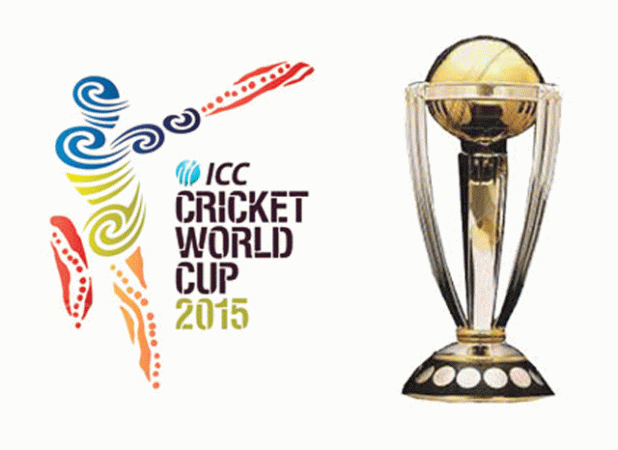 Many cricket fans among Bollywood stars have managed to take a break from their filmy activities to watch the World Cup Cricket match between India and Pakistan held at Adelaide in Australia this Sunday, 15 February.
While some stars went to the stadium, many are watching it live on TV. Few of them expressed their excitement over the match on their Twitter pages. Before the match began, they wished good luck to the Indian team. Later, they praised Virat Kohli and Suresh Raina for their wonderful batting.
On his Twitter page, Bollywood Baadshah Shah Rukh Khan wished, "Have a great game Team India. All the best for the World Cup."
Amitabh Bachchan, who is serving as the commentator for this match, tweeted, "T 1769 - Thank you GOOGLE for creating your face page with India Pakistan and cricket colours .. sporting of you !!!!T 1770 - Commentary for the India Pak match over, an honor to be in the room as legends - Kapil, Rahul, Shoaib .. predicted 300 .. got it !! T 1770 - Expressed India win, obviously .. now to see if that comes true .. !!"
Riteish Deshmukh: World Cup - India Vs Pakistan- it doesn't get bigger than this. First thing on TV for Riaan. Amitabh Bachchan on star sports live - wah -ab aur Kya chahiye - #IndVsPak @SrBachchan. 20 runs short.
Sidharth Malhotra: Adrenalin full Sunday #INDvPAK biggest game ! this #WorldCup2015 c'mon Indiaaa!! Commentary never sound so impactful @SrBachchan live on #IndvsPak superb
Siddharth: 9am start. No idea what lies ahead. Severe fear of failure. Confident-scared-confident-scared...feels like a school final exam! #IndvsPak. Well played Shikhar! Good start to the big show. Now let's have an epic 20 overs to set this up. Come on boys! #goodfeeling #INDvPAK
What lovely digits! Big finish coming up! #IndvsPak #Virattheboss pic.twitter.com/BMXpcVxMXy

— Siddharth (@Actor_Siddharth) February 15, 2015
Siddharth: Champion knock from Virat! What a big match player! #respect #bestest #INDvPAK Pakistan's fielding is like our bowling. Completely not in their control. #weakness #IndvsPak. Sensational death performance from Pakistan. Will not change the result. Will only affect blood pressure! #keepthefaith #IndvsPak when Pakistani fans refer to the contest as 'India Pakistan' and not 'Pakistan India'... Why do you think that happens? #mischief #IndvsPak Anupam Kher: Yeh Mera India.... I Love My INDIA. 300 hopefully is Good. Touch wood. Thu thu....as my mother would do.:) Arjun Rampal: So we post the highest total against Pak in a World Cup.Good come back from Pak bowlers in the death.Saved 20 runs.India still wins.Come On.
"Misbah a little Misbah a mile. So long as you miss. #INDvPAK Come on Indiaaaaaaaaaaaaa! Akmal caught that snick. Say you caught it yaar. Yes finally Akmal caught something. The edge. Woo hoo"
The only break they have had from screaming their lungs out! Im not even allowed to enter bcoz of panvati!! pic.twitter.com/VA1FCKnCEJ — Azmi Shabana (@AzmiShabana) February 15, 2015
Shabana Azmi: Can smbody cm and arrest my family for noise pollution? All dressed in blue with indias flag adorning TV. Even food being sacrificed!! Is anything happening in the world apart from the cricket match between India Pakistan?
Sneha Ullal: I'm gonna be lazy in bed and watch the match ..no work today. Oh shit.well played Dhawan. Worth the attitude- Kohli brings it again. Wooooooooooooooo go Raina. Itna Maza kyu aah raha hai.? Not out. Someone is praying for the things you take for granted. Yeaaaaaaaaaaaa Raina. Saw it coming - no problem- super game Kohli
Boman Irani: It's a goosebump festival in the Irani household! All standing at attention here for the anthems! #INDvPAK
Priyamani: Hope you guys r glued to the Tv???cracker of a game it's going to be!!!#IndvsPak
Rakul Preet Singh: It's always so exciting to watch an #IndvPak match.. Tv in my caravan -SET!! #WorldCup2015