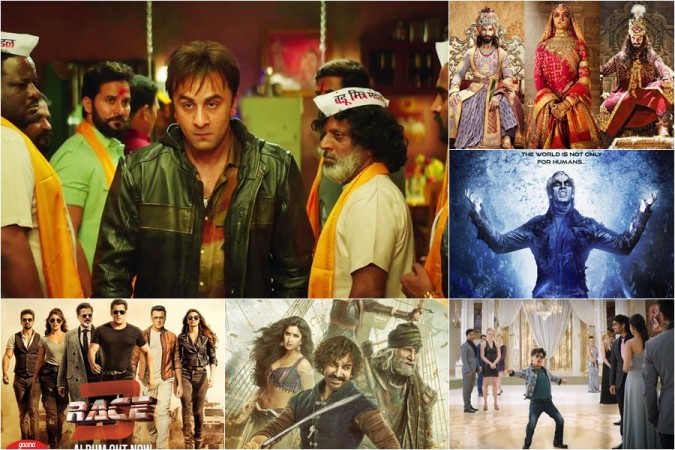 Ranbir Kapoor's Sanju and Ranveer Singh's Padmaavat have emerged as the highest grossing Bollywood movies of 2018 at the box office, while Race 3, Thugs Of Hindostan and Zero remained as flops.
Bollywood produced over 120 movies this year and the makers have spent Rs 5,000 crore on their production and promotion. Over 20 among these Hind films have become hit at the domestic box office, while the remaining turned out to flop films.
The box office verdict of this year has sent a clear message that content is the king and star power and masala element do not matter for the success of a film anymore.
Bollywood box office collection 2018: Here is the list of highest grossing Hindi movies of the year. This list provides the collection details, hit and flop status of over 60 movies. This table also includes the reports of Hindi versions of other Indian language films. These numbers are based on various reports and they may not match with actual ones. All the figures are rupees and crore.
| | | | | | | | |
| --- | --- | --- | --- | --- | --- | --- | --- |
| Rank | Film | Release | Day 1 | Weekend 1 | Week 1 | Lifetime | Verdict |
| 1 | Sanju | 29-June | 34.75 | 120.06 | 202.51 | 341.22 | Super-Hit |
| 2 | Padmaavat | 25-Jan | 24.00 | 114.00 | 166.50 | 300.26 | Hit |
| 3 | 2.0 (Hindi) | 29 Nov | 20.25 | 97.25 | 139.75 | 188.00 | Super-Hit |
| 4 | Race 3 | 15-June | 29.17 | 106.47 | 145.00 | 169.00 | Average |
| 5 | Baaghi 2 | 30-Mar | 25.10 | 73.10 | 112.85 | 165.00 | Super-Hit |
| 6 | Thugs Of Hindostan | 08-Nov | 50.75 | 119.00 | 134.95 | 145.29 | Flop |
| 7 | Badhaai Ho | 18 Oct | 07.29 | 45.06 | 66.10 | 136.80 | Super-Hit |
| 8 | Stree | 31-Aug | 06.82 | 31.26 | 60.39 | 129.67 | Super-Hit |
| 9 | Raazi | 11-May | 07.53 | 32.94 | 56.59 | 123.17 | Super-Hit |
| 10 | Sonu Ke Titu Ki Sweety | 23-Feb | 06.42 | 26.57 | 45.94 | 108.71 | Super-Hit |
| 11 | Gold | 15-Aug | 25.25 | 71.30 | 88.90 | 107.37 | Hit |
| 12 | Raid | 16-Mar | 10.04 | 41.01 | 63.05 | 101.54 | Hit |
| 13 | Satyameva Jayate | 15-Aug | 20.52 | 56.91 | 73.50 | 89.05 | Hit |
| 14 | Zero | 21-Dec | 20.14 | 59.07 | 81.32* | 81.32* | Flop |
| 15 | Veere Di Wedding | 01-Jun | 10.70 | 36.52 | 56.96 | 80.23 | Hit |
| 16 | Sui Dhaaga | 28-Sep | 08.30 | 36.60 | 62.50 | 79.02 | Hit |
| 17 | PadMan | 09-Feb | 10.26 | 40.05 | 62.87 | 78.95 | Hit |
| 18 | AndhaDhun | 05 Oct | 02.70 | 15.00 | 28.00 | 72.50 | Super-Hit |
| 19 | Dhadak | 20-Jul | 08.71 | 33.67 | 51.56 | 71.92 | Hit |
| 20 | Parmanu | 25-May | 04.82 | 20.78 | 35.41 | 65.36 | Hit |
| 21 | Kedarnath | 07-Dec | 07.25 | 27.75 | 42.00 | 62.00* | Hit |
| 22 | 102 Not Out | 04-May | 03.52 | 16.65 | 27.70 | 51.79 | Hit |
| 23 | Hichki | 23-Mar | 03.30 | 15.35 | 26.10 | 46.17 | Hit |
| 24 | October | 13-April | 05.04 | 20.25 | 30.24 | 45.36 | Average |
| 25 | Batti Gul Meter Chalu | 21-Sep | 06.76 | 23.26 | 34.43 | 37.26 | Flop |
| 26 | Soorma | 13-Jul | 03.25 | 13.85 | 21.00 | 30.11 | Average |
| 27 | Baazaar | 26-Oct | 03.07 | 11.93 | 18.05 | 28.02 | Flop |
| 28 | Manmarziyaan | 15-Sep | 03.52 | 14.33 | 21.40 | 26.45 | Flop |
| 29 | Pari | 02-Mar | 04.36 | 15.34 | 22.50 | 24.65 | Average |
| 30 | Hate Story 4 | 09-Mar | 03.50 | 12.57 | 18.61 | 20.04 | Average |
| 31 | Blackmail | 06-Apr | 02.81 | 11.22 | 16.92 | 19.11 | Flop |
| 32 | Happy Phirr Bhag Jayegi | 24-Aug | 02.70 | 11.78 | 18.11 | 18.11 | Flop |
| 33 | Aiyaary | 16-Feb | 03.50 | 11.70 | 16.14 | 17.01 | Flop |
| 34 | KGF - Chapter 1 | 21-Dec | 02.10 | 09.20 | 16.45* | 16.45* | NA |
| 35 | 1921 | 12-Jan | 01.56 | 06.45 | 09.38 | 15.67 | Flop |
| 36 | Tumbbad | 12 Oct | 00.65 | 03.25 | 05.85 | 13.48 | Flop |
| 37 | Karwaan | 03 Aug | 01.50 | 08.10 | 12.50 | 12.50 | Flop |
| 38 | Mulk | 03 Aug | 01.50 | 08.16 | 12.50 | 12.50 | Flop |
| 39 | Mukkabaaz | 12-Jan | 00.82 | 04.04 | 06.18 | 10.00 | Flop |
| 40 | LoveYatri | 05 Oct | 02.80 | 06.85 | 10.00 | 10.00 | Flop |
| 41 | Yamla Pagla Deewana Phir Se | 31-Aug | 02.00 | 07.25 | 10.00 | 10.00 | Flop |
| 42 | Fanney Khan | 03 Aug | 02.15 | 07.00 | 09.85 | 09.85 | Flop |
| 43 | Namaste England | 18-Oct | 02.00 | 07.00 | 07.85 | 08.25 | Flop |
| 44 | Pataakha | 28 Sep | 00.90 | 02.30 | 07.64 | 07.64 | Flop |
| 45 | Kaalakaandi | 12-Jan | 01.25 | 03.85 | 05.30 | 07.50 | Flop |
| 46 | Saheb Biwi aur Gangster 3 | 27-Jul | 01.50 | 05.25 | 07.50 | 07.50 | Flop |
| 47 | Paltan | 07 Sep | 01.25 | 05.00 | 05.00 | 07.00 | Flop |
| 48 | Helicopter Eela | 12 Oct | 00.85 | 03.45 | 05.00 | 05.00 | Flop |
| 49 | Bhaiaji Superhit | 23-Nov | 01.20 | 04.30 | 04.30 | 04.30 | Flop |
| 50 | Omerta | 04-May | 00.54 | 03.00 | 03.00 | 03.00 | Flop |
| 51 | Welcome To New York | 23-Feb | 01.00 | 03.00 | 03.00 | 03.00 | Flop |
| 52 | Jalebi | 12 Oct | 00.40 | 01.75 | 02.75 | 02.75 | Flop |
| 53 | Manto | 21 Sep | 00.50 | 02.00 | 02.75 | 02.75 | Flop |
| 54 | Pihu | 16-Nov | 00.45 | 01.00 | 02.50 | 02.50 | Flop |
| 55 | Mitron | 15-Sep | 00.50 | 02.25 | 02.50 | 02.50 | Flop |
| 56 | Laila Majnu | 07-Sep | 00.40 | 01.50 | 01.50 | 01.50 | Flop |
| 57 | 3 Storeys | 09-Mar | 00.50 | 02.25 | 02.25 | 02.25 | Flop |
| 58 | Mohalla Assi | 16-Nov | 00.25 | 00.55 | 01.75 | 01.75 | Flop |
| 59 | FryDay | 12-Oct | 00.30 | 01.20 | 01.75 | 01.75 | Flop |
| 60 | Vishwaroop 2 | 11 Aug | 01.50 | 01.50 | 01.50 | 01.50 | Flop |
| 61 | Bhavesh Joshi Superhero | 01-Jun | 0.50 | 01.42 | 01.42 | 01.42 | Flop |
| 62 | Dil Juunglee | 09-Mar | 00.50 | 01.05 | 01.05 | 01.05 | Flop |
| 63 | Gali Guleiyan | 07-Sep | 00.10 | 00.50 | 00.50 | 00.50 | Flop |