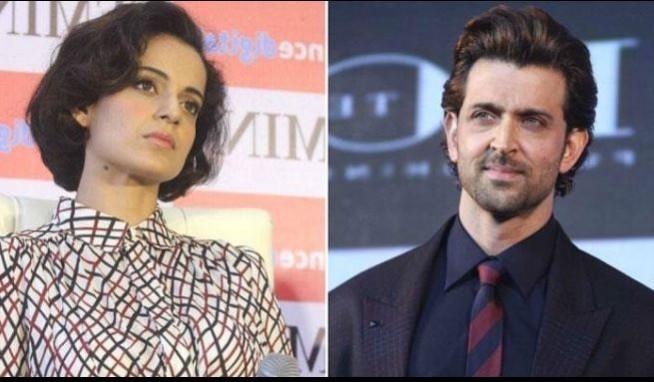 Hrithik Roshan finally decided to face the camera and talk about the controversy involving Kangana Ranaut on Arnab Goswami's channel Republic.
Check out some of the bold statements made in a 150 minute interview and do watch the exclusive video which was live on Hotstar below:
"First of all, I am not a victim," he began. "I don't think there is anything in my life that will make me think that way about myself."
"I know, and I have always known, that whatever I say can and will be used against me," he continued, "and I have to be honest that I am very, very uncomfortable right now."
"I've had enough. I need to say what I want to say, but I have to keep live up to this star thing of mine. I have to be cool and not give any attention to something that is not important, but after a while I realised I was pretending. It was affecting me, it was affecting my community, it was affecting my sense of well being. That's not being a hero, that's being fake," he said.
Arnab asked him what his snap out moment was. "I was advised to stop. I'm usually very stable, but in that state of mind, to come out and talk, was not advisable - not that I am totally comfortable right now - but one has to grow and realise that some things need to be done."
"I was afraid, and now I am not going to be afraid. I am going to allow my mind and my heart to say what it wants to say. If I hurt somebody's sentiments, I'd like to apologise right now."
"I first met her in 2008-2009," said Hrithik.
"We did not become good friends," he said, "I found her to be extremely, extremely professional, not just in Kites, but through Krrish as well, to the extent that I was really, really proud of her. She came with her dialogues, and she was giving everything she had for my movies, and for an actor to give so much to my movies meant a lot. I was extremely proud of her, and I told her that several times."
"She said that she was inspired by me after seeing me in a film in Manali. I took that as a compliment," he said.
"What about all those birthday parties you attended," asked Arnab. There were several images of the two being shared online, which Hrithik says are doctored, but Kangana sees as valuable leads in her case.
"There were hundreds of people at those parties, and they were always around some movie," Hrithik responded. "You have a celebration, a birthday or whatever, and you're calling more than a hundred people, and you make sure you include all your team."
"Was there anything at any time where you began to get worried, that you saw something from her side or in her behaviour that made you think twice?" asked Arnab.
Enjoy Republic TV - News with Arnab Goswami online in HD quality, only on hotstar.com - the one-stop destination for latest videos online.
"We were at a wrap party in Jordan, and I was ready to retire for the night, and she wanted to talk, and I was very, very tired, so I told her we should talk in the morning," he said. "I ordered for room service, and there was a loud knock on my door, so I went to check - this was 2012, and everyone was really happy - and it was her through the keyhole."
"She didn't appear to be in the right state. It was a party so you've had a few drinks, so I called my assistant, and he came down to her room and asked her sister to come get her.
"Rangoli (Kangana's sister) came and told me not to think badly of her, and that she is a good girl," Hrithik said, "and I said of course, I'm not for a moment judging her."
"A year passed until they met again, but Hrithik said this time, he was wary. He was more careful about not letting her get too close. "I don't judge the behaviour, but I would not do that, my instinct said be nice."
Arnab then mentioned that rumours linking them together began in 2013, but Hrithik said what he had already said in his statement. "I have not met her one on one in my life."
"That was the last time that year that we communicated. I then directly met her in 2014 on 24th May which was Karan Johar's birthday party."
"The last message I got from her was on my birthday."
"I knew instinctively that I should not get too friendly with her. 25th May, she sent me some barrage of messaged. It was all in Hindi and abusive. I thought somebody got hold of her phone and was playing a prank. There was no sentences, it was just abuses."
"I have written some 20 blogs on this whenever there was an impact on me. What has the star got to do with the human being that I am. I was confused how to merge these two."
"The Paris instance was always a third person and never a quote. My name was not being taken even once in all these years."
"I've had to go through a lot of emotions. I am going to own that. I have learnt some incredible things from this journey."
"The first mails started with 'I miss you', the first mails were explicit. It started growing and I started putting the mails in my junk and spam. When people asked me why I didn't block her, there was no blocking option in my Apple laptop."
"I must have read about 50-60 mails. There were 3000 mails. For two years, the harrassment was till my laptop. She used to send me her private pictures, videos. In 2016 harrassment became public."
"I thought my not reacting would stop this. I was a single man when these mails were coming. I could have, Thankgod I did not."
He revealed he was also accused of emotional rape, after which he lost interest in maintaining any kind of communication with her.
"There are a lot of things that I have handled in my life. I don't get rattled. Why were you not protecting yourself?, asked Arnab Hrithik said, "That was a mistake."
"I am media shy because of my own shortcoming," said Hrithik. Arnab said, "How can a actor be shy?"
"If I have written these mails to myself, then I need help."
"When asked why he couldn't confront her in person, the Mumbai Police Commissioner stopped him from doing so as this could get escalated."
"The emails stopped on 11th December, 2014. And through the day it became aggressive and abusive. The mails are offensive to the senses but not sexual. They were crude.
"I should have been agressive from the beginning but I will now."
"I am first a human being and I am not going to be apologetic about my emotions. I have had to accept my vulnerability."
"I laughed and I was amused when I saw her Interview with Rajat Sharma."
"I am not here to accuse or put someone down. I am here to defend myself. I am here to create awareness and shut this whole thing down."
"If I get a chance to speak to her, I will tell her my thoughts but will not do it on National TV," concluded Hrithik.
Over to you Kangana.