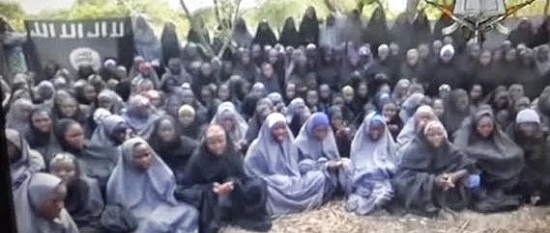 There are increasing speculations in the Nigerian media that Boko Haram could be using abducted Chibok schoolgirls as suicide bombers.
The reports come at a time when Nigeria is witnessing a spurt in Boko Haram attacks featuring using female suicide bombers.
Local daily Punch claims that members of the #BringBackOurGirls movement fear that the young girls, abducted by Boko Haram back in April, have been "indoctrinated or coerced" to become suicide bombers.
Three young female suicide bombers have reportedly wrecked havoc in different parts of the country within a week.
According to The Washington Post, a woman blew herself up at a petrol station in northern Nigeria on Monday, killing three people. The suicide bomber was standing in line with other women, wearing a traditional hijab, when the bomb went off.
Another female suicide bomber blew herself up in a supermarket on the same day, killing herself but not injuring anyone else.
Also, a 15-year-old girl detonated a bomb near a university on Sunday, killing herself.
"Seems abducted women that were undergoing indoctrination and brainwashing while in hostage for years are now being sent out as suicide bombers. However, 100 days is long enough for anyone's ideologies or principles to be distorted, especially teenagers whose values are still being shaped," Punch quoted Bukky Shonibare, a key member of the #BringBackOurGirls coalition.
Since June, there has been an increase in the number of female suicide members deployed by Boko Haram.
Several political analysts in the country fear that the Chibok schoolgirls could easily be exploited by the brutal Boko Haram militants.
Political blogger Japheth Omojuwa, while decrying the use of young girls as suicide bombers, stated that the use of female bombers could be a strategy by Boko Haram to save their men for combat.