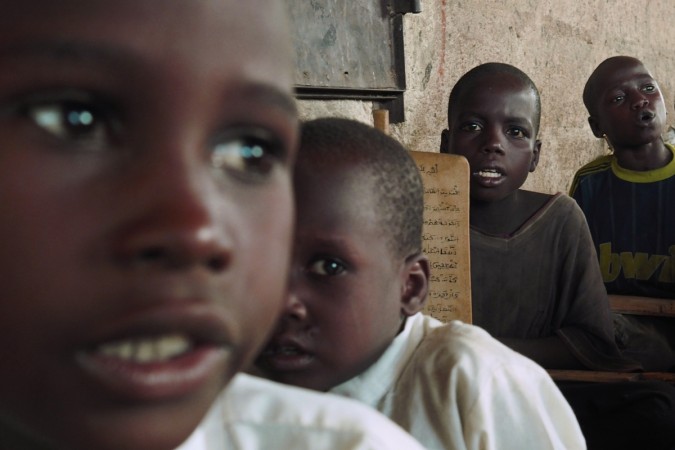 A media group affiliated to militant outfit Boko Haram has released shocking images of children as young as five years being trained in military camps in Nigeria.
Two images released by al-Urwa al-Wuthaqa show young children clad in dark clothes brandishing AK47 rifles. While most of the children – seen aiming their weapons towards a target -- were young boys, some of the so-called "combatants" were young girls.
The Nigerian-based Islamist militant group – that dominated headlines throughout last year for its infamous abduction of hundreds of girls from Chibok area in Nigeria's Borno State – mainly conducts its activities in Nigeria and in neighbouring countries such as Cameroon.
The main objective of the group – the name of which loosely means "Western or non-Islamic education is a sin" – is to overthrow the incumbent Nigerian government and install an Islamic regime in its place.
صور لأشبال الدولة .. جيل الفتح والنصر إن شاء الله (4) pic.twitter.com/qqSxLVuKDX

— مؤسسة العروة الوثقى (@Alurwa_Alwuthqa) January 25, 2015
صور لأشبال الدولة .. جيل الفتح والنصر (3) pic.twitter.com/qCE27kVQ4F — مؤسسة العروة الوثقى (@Alurwa_Alwuthqa) January 25, 2015
Boko Haram has wreaked havoc in the African nation, kidnapping hundreds of women and girls and also using children as soldiers in military operations in recent times.
Militant groups such as these usually use children as combatants as they tend to represent the section of the society that is vulnerable and easily manipulated and convinced. The children are known to go through arduous physical training as well as religious preaching in the camps, Sputnik News notes.
"Terrorist groups will often try to amass the most members as possible even if they're young boys or girls," News Week quoted Max Abrahms, a political science professor at Northwestern University as saying.
The ruthless attitude of Boko Haram has resulted in its inability to recruit adults, this could also be a reason for roping in children. Nigeria Security Network coordinator Andrew Noakes says that Boko Haram has "started alienated local people across northeast Nigeria with their brutal tactics" and therefore forced to recruit children.