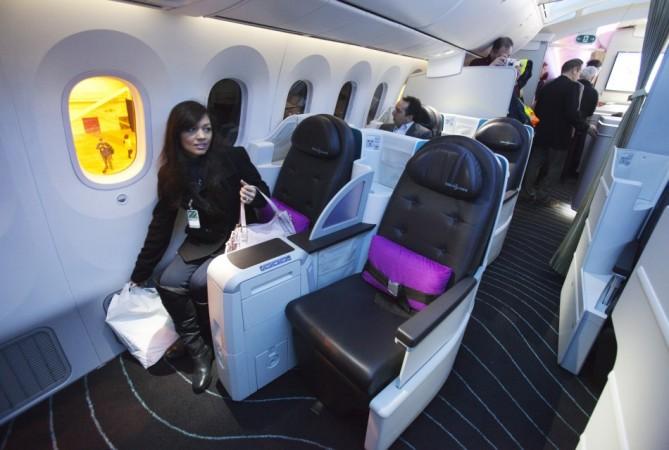 After the Boeing Co. rolled out its 787 Dreamliner in South Carolina assembly plant on Friday, Air India is expected to get four aircrafts mid this year out of the 27 it has ordered.
Speaking at the rollout ceremony of 787 Dreamliner, the most fuel-efficient and twin-engine aircraft, Jack Jones, Boeing South Carolina vice president said that it will start flying in three to four weeks.
Stating that the aircraft manufacturing company is ready to deliver its Boeing 787 Dreamliner to India, Bloomberg quoted Jim Albaugh, head of Boeing's commercial airplane division say: "I know we're a little late delivering this airplane, but when they get it, they're going to say it was worth it."
However, the head of Boeing's commercial airplane division declined to comment about any compensation for Air India.
Air India demanded $1 billion in February, after saying in August 2010 that it would seek $840 million. Airlines sign up for delivery slots when they place orders, and Boeing faces penalties for late planes such as the 787 Dreamliner, Bloomberg reports.
However, Albaugh refuted the Indian government's statement that the planemaker agreed to pay $500 million in compensation because of delays to the jet, originally scheduled for first delivery in May 2008.
The decision to induct the "super-efficient" airplanes was decided by the government during a Cabinet Committee on Economic Affairs (CCEA) on April 12, 2012.
27 Boeing 787 Dreamliners will be inducted to the government-owned airline in the first phase.
According to the manufacturing company Boeing, the airbus has the capacity to carry 210-250 passengers on routes of 7,650 to 8,200 nautical miles (14,200 to 15,200 kilometers) while the 787-9 Dreamliner can carry 250 -290 passengers on routes of 8,000 to 8,500 nautical miles (14,800 to 15,750 kilometers).
The distinguishing features of the airplane include a four-panel windshield, noise-reducing chevrons on its engine nacelles, composite fuselage, larger cabin windows (27 by 47 cm) and other improvised interior environment.