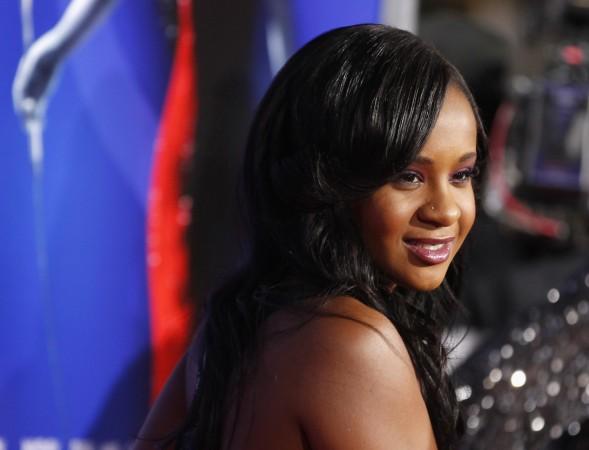 Bobby Brown's prayers for a speedy recovery for his daughter Bobbi Kristina Brown – who has not been responding to treatment for months – were answered over the weekend, when the family announced that the 22-year-old was awake and off life support.
Bobbi Kristina was rushed to the hospital on 31 January after being found unconscious in the bath tub of the home she shared with boyfriend Nick Gordon. Since then, there was no improvement in her condition, prompting reports that the family was thinking of pulling the plug on the late Whitney Houston's daughter.
However, Bobby Brown was said to be against the decision, as he hoped his daughter would wake up.
His prayers were answered, and on Saturday he stunned the crowd during a concert by announcing, "Bobbi is awake. She's watching me."
Later, his aunt Tina Brown took to Facebook to announce the good news, writing: "So many messages,sorry can't answer them all right now but I will get to them later..just allow me this time with my family,,yes,she woke up and is no longer on life support!!!!!:):)God is good!!thanks for your prayers,,still a process,but she is going to be ok:):):):)."
The details of Bobbi Kristina's recovery have not been released, but a source close to the development urged fans to continue praying for Bobbi Kristina. "Please don't stop praying for Bobbi Kris even though she is off life support and she has woke (sic) up. We are decreeing life in her body and healing and we want to pray that god restore her body and everywhere that she hurts and we want god to mend her broken heart and make her whole all over again," the Facebook post read.
In recent times, there have been reports of a feud between the Browns and the Houstons as the latter reportedly wanted to pull the plug on Bobbi Kristina and end her suffering. But Bobby Brown was optimistic, and believed that there was still hope for his daughter to wake up.
Rumours also hinted at a fight for Bobbi Kristina's inheritance.
Bobbi Kristina's boyfriend Gordon is still in rehab, getting help for his outbursts following Bobbi Kristina's hospitalisation. He is said to be doing well with no relapses.