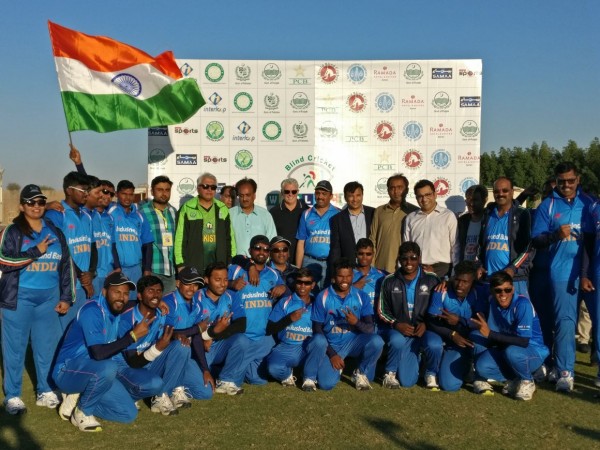 Dominant India continued their winning streak as they defeated Bangladesh by seven wickets to enter the final of the Blind Cricket World Cup at the MCC Ground in Dubai on Wednesday, January 17.
Defending champions India will take on Pakistan on January 20 at Sharjah.
Winning the toss and electing to bat, Bangladesh were bowled out for 256 in 38.5 overs. India's strong bowling department restricted them to a modest score as Durga Rao took three wickets in three overs by giving away only 20 runs. Deepak Malik and Prakash bagged two wickets each.
It was a poor start for Bangladesh as they lost two early wickets but a resilient unbeaten 108 by Abdul Mallik helped Bangladesh to reach a respectable total.
Chasing the target, Man of the Match Ganeshbhai Muhudkar's century steered India home comfortably.
His breezy knock of 112 came in just 69 balls. Another star player Deepak Malik was retired out for 53 of 43 balls. While Naresh made a handy 40 runs in 18 balls.
India have remained unbeaten throughout this tournament and are considered the favourites to retain their title.