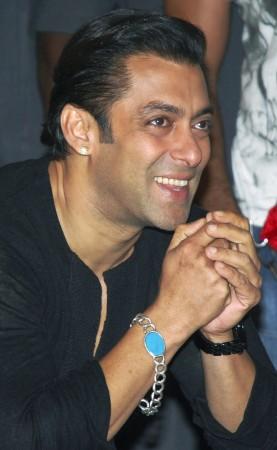 Bollywood super star Salman Khan did not appear in the Jodhpur court on Monday for a hearing on the 1998 blackbuck poaching case in Rajasthan.
Salman along with Saif Ali Khan, Tabbu, Neelam, Sonali Bendre and two others were summoned by the court to hear the revised charges booked against them for shooting and killing the protected blackbuck at Kankani village in Jodhpur. The acccused actors failed to appear in court.
Stating that the actor could not come to court on account of his shooting schedules, Salman's lawyer Hastimal Saraswat said, "We moved an application in the court today seeking his exemption from appearing in the court on the ground that he was busy in shooting."
The court has scheduled the next hearing on March 23.
The court was supposed to read out the revised charges to all the actors, who were hunting the blackbuck during the shooting of the movie "Hum Saath Saath Hai".
In 2012, the Chief Metropolitan Magistrate (District) had booked Salman under Section 51 of Wildlife Act, Section 27 of Arms Act and Section 148 (rioting and use of deadly weapons) of Indian Penal Code (IPC).
The rest of the actors including Saif, Tabu, Sonali, Neelam, Dushyant Singh and Dinesh Gawre were booked under Section 51 and Section 52 (attempts to contravene, or abet the contravention of, any of the provisions) of Wildlife Act and Sections 147 (punishment for rioting) and 149 (unlawful assembly) of IPC.
Later, the accused filed a review petition in Session's court after which Section 27 of Arms Act and Section 148 of IPC were dropped against Salman, charges under Sections 51 of Wildlife Act and Sections 147 and 149 of IPC were dropped against the rest.
The state government challenged the Session's court verdict in the High court which upheld the decision in Salman's case. The others were booked under the Section 149 of IPC.
The state later moved the Supreme Court which again upheld the verdict of the High Court.