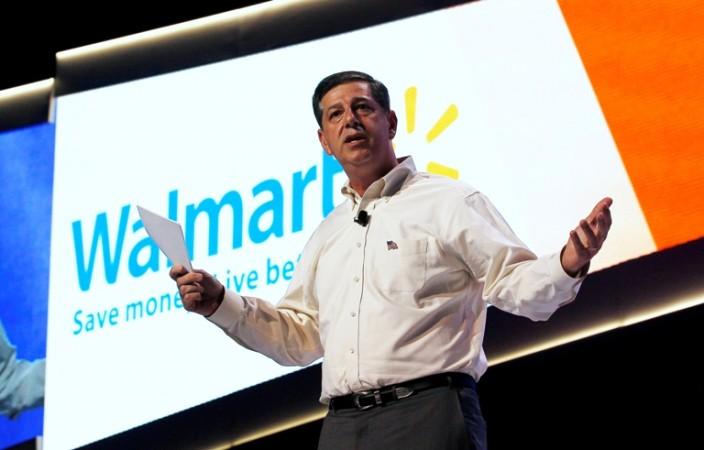 Wal-Mart, the largest chain of retail stores, earlier said that it will match Amazon's prices and accordingly has commenced a pre-Black Friday sale. Like Amazon, Wal-Mart is starting its Black Friday 2014 sale a full week earlier than the traditional Black Friday. While both retailers challenge each other in offering best discounts, consumers can take advantage of the deals.
Wal-Mart is offering interesting deals on electronic gadgets with special prices on some hot items such as the Apple iPad Air 2 and iPhone 6. The offer also extends to other electronic items including LED TVs, fitness bands, gaming consoles and lot more.
The Wal-Mart Black Friday 2014 sale is offering a 16GB iPad Air 2 for $489 along with a $100 in-store gift card. Apple's latest flagship, iPhone 6, is on sale for $179 with a two-year contract from AT&T, Sprint and Verizon or with $0 down through AT&T Next or Verizon Edge. To sweeten the deal, Wal-Mart is offering a $75 gift card. The Apple iPhone 5S is on sale for $79 for a two year contract with a U.S. carrier along with a $75 gift card.
Other Black Friday deals at Wal-Mart include,
$389 16GB iPad mini 3 with $100 Wal-Mart gift card
$399 PlayStation 4 with $50 Wal-Mart gift card
$329 Xbox One Halo: The Master Chief Collection bundle and free $30 Wal-Mart gift card
$449 PlayStation 4 Grand Theft Auto V bundle with choice of two games
$379 Xbox One with choice of game bundle and 12-month Live Card
$115 40-inch LED HDTV ($183 off)
$648 60-inch Sony or LG Smart HDTV ($150 off)
$75 Jawbone UP24 ($34.97 off)
$698 Samsung 58" Class Smart LED HDTV
$298 Samsung 40" Class LED HDTV with "Frozen Sing-Along Edition"
Wal-Mart's pre-Black Friday sale runs till Thursday, 27 November, or till supplies last. The main sales event will commence Thanksgiving morning, with the in-store event starting only at 6 p.m. But most stores will open at 6 a.m. on Black Friday.
Wal-Mart is also offering 1-Hour Guarantee, where customers can get guaranteed gifts after purchase. The offer runs in select stores between 6 p.m. and 7 p.m. on Thanksgiving.