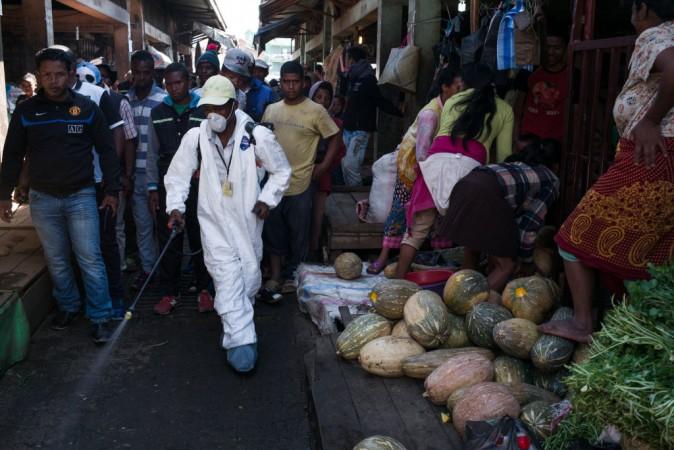 A nine-year-old girl's death has caused health scare in East Africa. According to reports, the girl died in central Uganda of an eye-bleeding disease that could kill up to 40 percent of all the infected.
The extremely viral disease is said to be more dangerous than the Black Death, which reportedly killed thousands last year. The disease makes blood ooze from the eyes and has triggered panic in East Africa, the Daily Star reported.
Also Read: What is Black Death? Here is all you need to know about the deadly plague
Initial reports suggest that the girl died after she contracted the viral disease, which is similar to the Crimean-Congo hemorrhagic fever. The symptoms of this deadly disease include headaches, bleeding, vomiting, diarrhoea and muscle pains.
A health team was rushed to the site to take the girl and prevent any possible outbreak. Local district Health Officer Dr Badru Sesimba told media that the girl's blood sample had been sent to the Uganda Virus Research Institute.
On Thursday, after taking the girl's body, authorities disinfected the home. Reports suggest that the health team will bury the girl's body because they fear of a health scare.
"We are stranded on what to do because the health teams took away the body. We are waiting for a communication regarding the burial arrangements," family member Harriet Nalunkuma told local media.
The disease has been dubbed as the "eye-bleeding fever" and four people are said to have died of the viral disease.
Black Death
Black Death, caused by bubonic plague, was one of the most devastating pandemics recorded in the human history. This disease claimed the lives of an estimated 75 to 200 million people in Eurasia and in Europe from 1346 to 1353.
The plague can now be treated with antibiotics, but still, a few people die every year in the United States. The World Health Organisation has listed out symptoms of the disease as "flu-like."