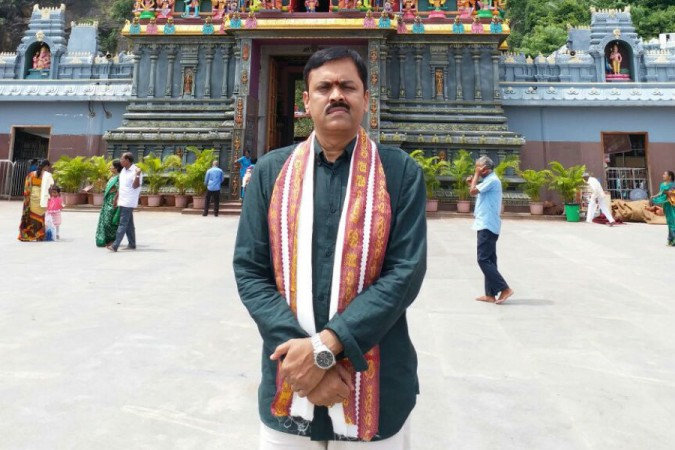 Rajya Sabha MP and BJP national spokesperson GVL Narasimha Rao got into a Twitter spat with Nara Lokesh over the issue of UCs (utilisation certificates). He told Lokesh not to exhibit dynastic arrogance like Congress president Rahul Gandhi when he asked who was he to question the government.
In a recent statement to media, GVL Narasimha Rao said that the Utilisation Certificates (UCs), submitted to the Centre by the Andhra Pradesh government were incorrect. IT and Panchayat Raj Minister Nara Lokesh took to Twitter on Monday to lash out at the BJP spokesperson.
In his tweets, Lokesh claimed that GVL Narasimha Rao has no rights to talk about the accuracy of UCs. He tweeted, "May I ask who is GVL to tell UCs submitted by AP are incorrect? Concerned departments have to raise questions if they are in improper form. FYI, all UCs for nearly Rs. 1000 crore spent on Backward Districts have been submitted & approved."
In a series of tweets, Nara Lokesh went to reveal the details of the funds released for various purposes and UCs submitted to the Centre. Read below his series of comments.
No funds were released for Amaravati drainage works. Rs. 460 Cr & Rs. 540 Cr was given to Vijayawada & Guntur respectively. UCs for Rs.349 Cr have been submitted for the work completed until now, pending work in both cities will be finished by next year.

Until now, the Centre has given Rs. 1500 Cr to Amaravati. UCs of up to Rs. 1583 Cr have been submitted and accepted. I request GVL to share details of his 'imaginary projects' for which Rs. 8962 Cr was given or accept that he is lying through his teeth.

The CAG report for 2016-17 on Govt of India's accounts questioned the misuse of Rs.83900 Cr Education Cess. Diversions of funds of Jute Corp, non-submission of UCs by several departments were special mentions. Could the BJP first respond on CAG questions posed to Central Govt?

Submissions & approval of UCs are administrative procedures that involve Central & State Govt employees. But BJP wants to politicize it and portray that AP is misusing funds to tarnish @ncbn's image. BTW, one does not need UCs to deliver on the promise of Special Status to AP.
A day after his post, GVL Narasimha Rao took to Twitter to respond. He retorted that he is a common man and he should stop displaying the dynastic arrogance of Rahul Gandhi. Meanwhile, the BJP spokesperson went on to mock chief minister Chandrababu Naidu's Nava Nirmana Deeksha.
GVL Narasimha Rao tweeted, "Dear @naralokesh Any common man can ask questions of a govt. Don't exhibit dynastic arrogance of @RahulGandhi. For utilised funds, UCs must be honest, not fake. I dare you to tell people in your "Naya Vanchana Deekshas" what works you have done. Your fake claims will be exposed."