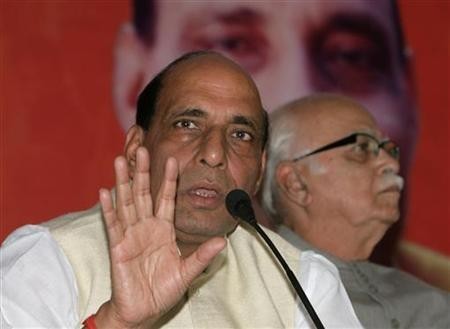 A day after being declared president of the Bharatiya Janata Party (BJP), Rajnath Singh launched a nationwide protest on Thursday condemning Home Minister Sushilkumar Shinde's bold accusations of the party operating terror camps.
Rajnath Singh was accompanied by senior party leader Sushma Swaraj and other supporters in the mass protest at Jantar Mantar in Delhi. The announcement to hold the protests across the nation was made shortly after Rajnath Singh was elected to his post on Wednesday.
The protest in Chandigarh seemed to have intensified as police were forced to use water cannons on the demonstrators, reported NDTV.
Condemning Shinde for identifying terror with the BJP and RSS, the BJP may initiate legal action against him and Home Secretary RK Sing for backing his comments.
It has also demanded for Shinde's dismissal until the Congress and Prime Minister Manmohan Singh issue an apology.
Addressing the party workers at the rally, Rajnath Singh said, "You call the BJP a terrorist organisation and then retract but don't think that we will stop the agitation. Until the Congress party apologises, PM apologises and Shinde is dismissed we will continue to agitate."
In a direct attack at the PM, the BJP chief said, He added, "Our PM does not talk. Takes at least a month or a year to comment on pressing issues."
The protest came three days after Shinde addressed the All India Congress Committee (AICC) meeting in Jaipur where he said, "Whether it is the BJP or RSS, their training camps are promoting Hindu terrorism."
Adding fuel to the fire, RK Singh said on Tuesday that around 10 people, suspected of having carried out several terror acts in the country, have connections with the RSS.
Coming to Shinde's defence, Congress general secretary Janardhan Dwivedi said that the statements were uttered by accident and the Congress had no intention of associating religion with terror.
External Affairs Minister Salman Khurshid also backed Diwedi on disassociating terror with religion but made it clear that Shinde's accusations against the two parties came from material evidence.
"Let me just say this to you very clearly that our stated position, that is shared fully by the home minister and past home minister, is based entirely on facts as the investigative agencies have made available to the government," Khurshid told PTI.