This Chinese anti-ageing medicine proves that beauty does come with a price. In China, protected wild frogs are killed and dried to make traditional anti-ageing medicine Hasma, known as 'xue ha gao' in Chinese.
Hasma is made from the uterine tubes or Fallopian tubes of female snow frog known as Xueha. People in China kill the protected animal, dry them and once they are dried, the fat surrounding its ovaries is removed while the remains are thrown away.
The traditional medicine, which is believed to be useful for women, is also used in soups as a thickener.
Recently, shocking photos of frogs pierced by a wire and hung up for drying emerged on social media. The photos captured the production process of the traditional medicine Hasma.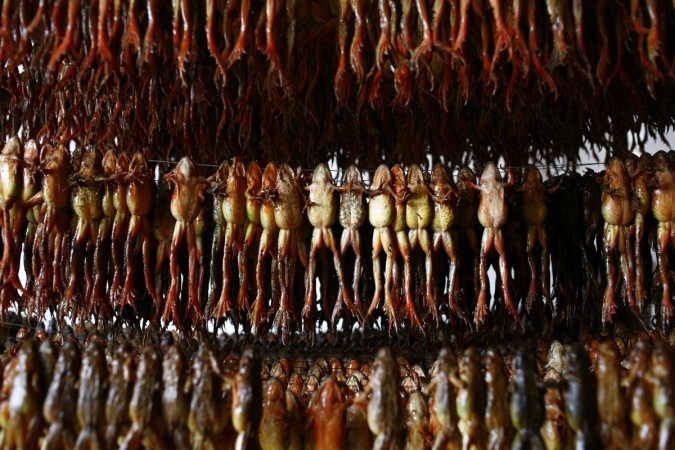 "The hanging method can ensure that the hasma can be extracted at its best quality," a shop owner, who dries the frogs, told iFeng.com.
Several people believe that Hasma is good for women, but an associate professor from the School of Chinese Medicine at the University of Hong Kong said that nowadays Hasma might contain fat tissues of any frog families.
"Pure hasma should be made from the fallopian tubes of female Asiatic grass frogs. However today, the hasma (on the market) might contain fallopian tubes, ovary or fat tissues from any frog families," professor Chen Jianping told HK Economic Times.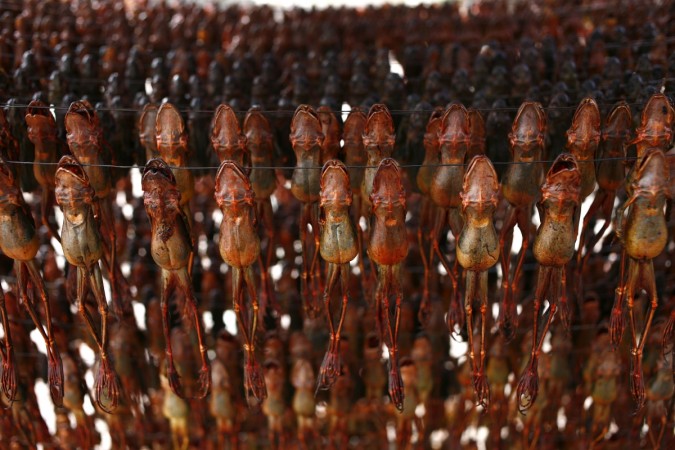 According to reports, these frogs are captured, killed and then hung up for about 20 to 30 days. The Fallopian tubes contain high protein and oestrogen and are believed to have several health benefits including boosting energy levels. It is also believed to have properties that give clearer complexion and also restore strength after child birth.
Professor Cui Hequan from Henan University of Traditional Chinese Medicine told People's Daily Online about the benefits of the traditional medicine.
"Hasma contains high collagen and amino acid which could help consumers get better metabolism, thus it could regenerate new skin and make women look youthful. It can also help balance the hormones and boost energy level."