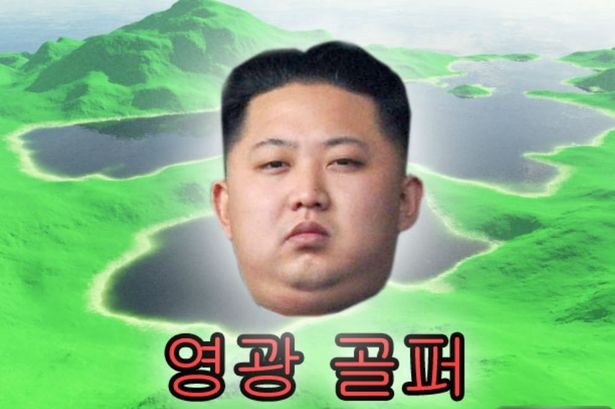 It's quite easy to say, at this point, that the Supreme Leader is one of the most popular individuals on the planet. Like his father, present North Korea leader Kim Jong-un upholds the values of "socialism" in the single-party state, glimpses of which we often get to see.
However, on the lighter side of things, you can now fulfil the long-cherished dream of stepping into the boots of the 'glorious' leader with a new game that's gone viral all over the Internet (nothing compared to the political propagandas, though). You actually step into Kim's golfing shoes for the game, and swing the club.
The new online game, out now, features a rather overweight Kim, accompanied by retro arcade graphics in the backdrop, and makes it quite impossible not to get a hole-in-one. The game is basically fixed, and no matter what, you can be sure of scoring a hole-in-one.
"Step into Kim Jong Un's golfing shoes and play a round of golf as our glorious leader. His father, Kim Jong Il, is famous for getting a hole-in-one on every hole when he used to play. Do you have the skill required to keep up the family tradition? This is a realistic simulation of what it is like to play golf as a glorious leader," the official site states.
True to the official description above, the game is actually a reference to Kim's father Kim Jong-Il, who is said to have famously picked up a golf club in the 1990s (for the first time in his life), going on to score an implausible 11 holes-in-one in an 18-hole golf course.
The historical feat was also witnessed by 17 security guards. He was later satisfied with the round and immediately retired from the game, leaving the likes of Sergio Garcia and Tiger Woods to pick up the pieces. Such an inspiration!
In other news, North Korea issued hundreds of fresh propaganda slogans on Thursday ahead of the 70th anniversary of the founding of the Workers' Party of Korea. The new ones urge North Koreans to "build a fairyland for the people by dint of science" and "let the strong wind of fish farming blow across the country".
If the description of the game hasn't creeped you out enough, you can check out the game here. Let us know how it felt to step into the boots of the supreme leader in the comments section below.