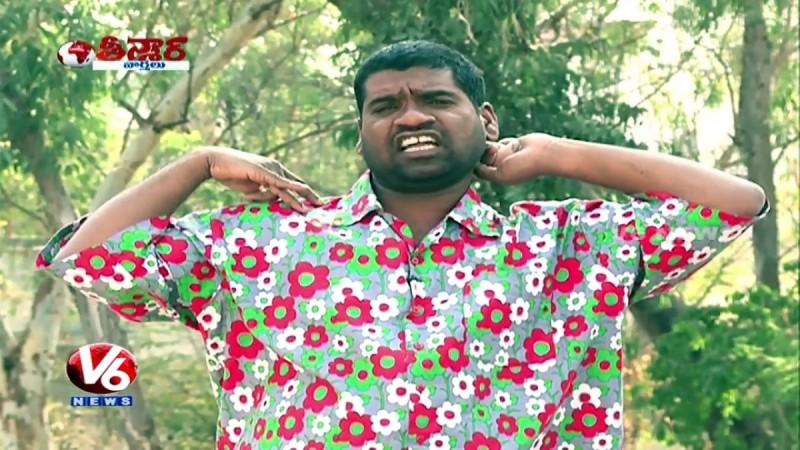 The man, who assaulted Teenmaar News anchor Bithiri Sathi (Bittiri Satti) on Monday at the office of TV channel V6 on Monday, said that he wanted the channel to be closed down. The suspect, identified as Manikanta, also said that he wouldn't mind going to jail for that.
Comedian Bithiri Sathi, whose real name is Chevella Ravi, was physically assaulted at the office of channel V6 in Banjara Hills at 2.00 pm on Monday. While attacking the anchor, Manikanta reportedly shouted "Jai Bharat" and slapped him. Ravi, who suffered minor injuries, was immediately taken to a nearby hospital.
The security staff caught the attacker and handed him over to the police. Speaking to media, Manikanta said that he is a resident of Paradise in Secunderabad. He said he was outraged by the anti- Telangana and anti-India comments made by Bithiri Sathi on his show. " (So) I decided to close down the TV channel," Manikanta said.
Manikanta also revealed that he is an aspiring writer and film director. "I was ready to become a writer and director and enter in the film industry. I also own a travel (company). But now I have decided to sacrifice my career to fight against this issue. I am even ready to go to jail for this cause," he added.
The Banjara Hills Police officials, who are interrogating Manikanta, said that the man in custody is mentally unstable. "We have received a complaint from the victim although we are yet to file an FIR. The accused seems to be mentally unstable," police officer K Srinivas told The News Minute
"We tried to find out the motive behind his attack, and he claims that he was hurt because Ravi (victim) made anti-India and anti-Telangana comments on the show (Teenmaar News)," Srinivas added.
Bithiri Sathi is a popular comedian and he rose to fame through his witty and satirical show Teenmaar News on V6. He was honoured with the best journalist award on the Telangana Formation Day this year. His stint on the TV show has also won him some good offers from the Telugu film industry.