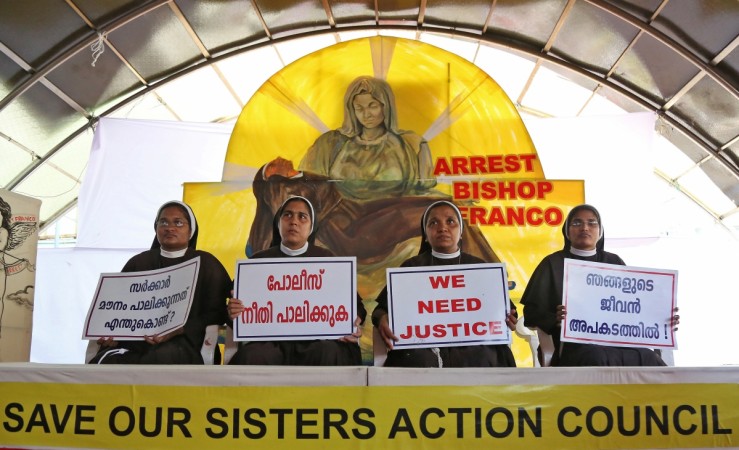 Jalandhar Bishop Franco Mulakkal, accused of raping a nun, has written to Pope Francis, offering to step down temporarily. In a letter dated September 16, the bishop sought the permission of the Vatican saying he needed more time to travel to Kerala and fight the case.
According to a report in The Indian Express, a letter undersigned by Father Peter Kavumpuram, PRO, Diocese of Jalandhar reads, "Today 16th September 2018, Bishop, Franco Mulakkal, wrote a letter to Holy Father Pope Francis expressing his desire to step aside temporarily and requested to be relieved from the administration of the Diocese in the background of the court's opinion that there is lack of adequate evidence to arrest Franco indicating his innocence. He decided on his own to make this request to Holy Father, so that the truth may be established. He is confident that his request will be accepted by the Vatican". Father Peter confirmed the letter.
On Saturday, September 15, a group of nuns in Kerala had staged a protest demanding Mulakkal's arrest. Speaking to the media, one of the five nuns who along with hundreds of people are protesting said, "We will not rest and we will not be happy till he is questioned and arrested."
The nun has also sought the intervention of the Vatican, questioning why the Church was "closing its eyes to the truth" when she mustered the courage to make public her sufferings. Accusing the bishop of sending lewd messages and obscene pictures over the phone, the nun alleged that she was raped and subjected to unnatural sex 13 times since 2014 at a convent in Kuravilangad.
Bishop cries foul play
According to ANI, Mulakkal has denied the charges levelled by the nun, saying that a "conspiracy" has been hatched by a group of people who are against the church. "The nun is lying, made up the case against me because I had ordered action against her," the bishop said.
Meanwhile, The Week reported that agitation against Bishop Mulakkal is all set to intensify. The sister of the victim nun will go on a hunger strike from Monday, September 17, the 10th day of the protest. The nun's sister said that it was painful to note that the top hierarchy of the Church was remaining silent over the complaint. "We did not get justice from the Church; money rules the clergy," she added.
Alongside, a USA-based website named www.bishop-accountability.org, which documents the abuse crisis in the Roman Catholic Church, has included Bishop Mulakkal's name in its list of priests guilty of criminal abuse. The website, which offers an online collection of more than 100,000 pages of church records, legal documents, and media reports gives the public convenient access to information pertaining to the abuse crisis in the US and worldwide.