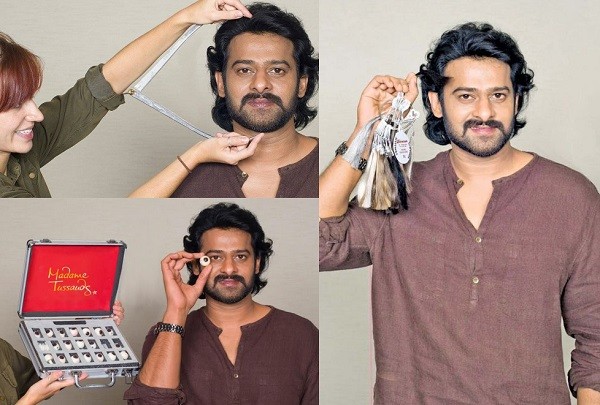 Telugu actor Prabhas, who is celebrating his birthday today, was not aware of the news about his wax statue at the Madame Tussauds museum and he was shocked when he learned it from a friend.
SS Rajamouli recently revealed that Madame Tussauds is making a wax statue of Prabhas and he is the first South Indian to get this honour. He is joining the league of Indian actors like Amitabh Bachchan, Shah Rukh Khan, Salman Khan, Aishwarya Rai Bachchan, Hrithik Roshan, Kareena Kapoor Khan, Madhuri Dixit Nene and Katrina Kaif, who have their wax statue at the Madame Tussauds.
Prabhas' wax statue will be unveiled at Bangkok in March. "When I heard it first, I was shocked. After my friend called me to give me the news, it actually took some time for me to understand what he was saying. I asked him if he was just joking. I was shooting for Baahubali then and I called Rajamouli to share the news and he hugged me. We were all extremely happy about it," the rebel star told the Deccan Chronicle.
Prabhas Raju Uppalapati turned 37 on Sunday, October 23, has no special plans to celebrate his birthday. He was in Mumbai on Saturday to launch the promos of his upcoming film Baahubali: The Conclusion. He spent his birthday on the sets of the movie. The Mirchi star had confirmed the news about it a couple of weeks ago.
"I'm in Mumbai to launch the Baahubali 2 promos, teasers and posters on Saturday and will be spending the weekend working, but I don't think of it as work. I feel it's nice to spend time doing what I love and when you love what you do, it isn't really work," Prabhas had told.
However, the makers of Baahubali 2 released his first look from the movie, which features him flaunting eight-pack abs. The poster has generated a lot of curiosity about Baahubali: The Conclusion, which is scheduled to be released in cinema halls around the world on April 28, 2017.