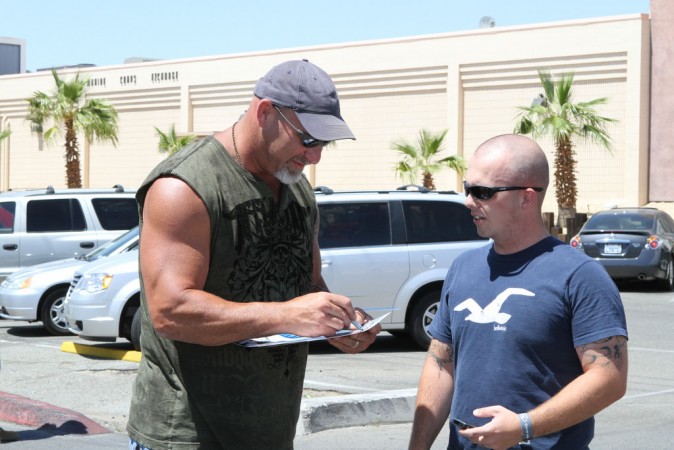 Bill Goldberg, the former WCW champion, got a rousing welcome from fans on last week's Monday Night RAW where he confirmed the fight with Brock Lesnar that is now being termed as a dream match and is a potential candidate for the WWE match of the year award. However, if latest predictions by bookies are anything to go by, then Goldberg's return hype could fail resulting in a Brock Lesnar win.
Gauging rumour mills and bookie predictions flooding the internet, it appears that a certain section of WWE loyalists prefer a Brock Lesnar victory. Rumours are rife that the former WWE champion will put Goldberg away with his devastation F-5 finishing manoeuvre. This is expected to be done in revenge to the loss that Lesnar suffered at the hands of Goldberg during their infamous Wrestlemania 20 bout.
However, it is predicted (by bookies) that WWE will not keep Goldberg away after their potential Survivor Series 2016 fight. It is expected that Goldberg will make appearances for WWE at the Royal Rumble 2017 and at Wrestlemania 33 where a match against The Undertaker is being speculated. In fact, this development if official could be the biggest thing in sports entertainment considering the combined legacy of both The Undertaker and Goldberg.
Nonetheless, it is worth noting that during his return last week Goldberg said: "Brock you're last," which means that the former WCW champ's return could be a one-off match. But as WWE is known for their unconventional ways, a "more than dream match" with The Undertaker at Wrestlemania 33 (which could well be Taker's last match before full time retirement) cannot be ruled out.
Goldberg's physical shape after the match with Brock Lesnar at Survivor Series would also be taken into consideration before the former is booked for future WWE events. At the moment, Goldberg vs Brock Lesnar 2 is much-awaited by wrestling fans. This match represents the first-time Goldberg steps into the ring in his wrestling gear. Do let us know your predictions on Brock Lesnar vs Goldberg and a potential Goldberg vs The Undertaker bouts.