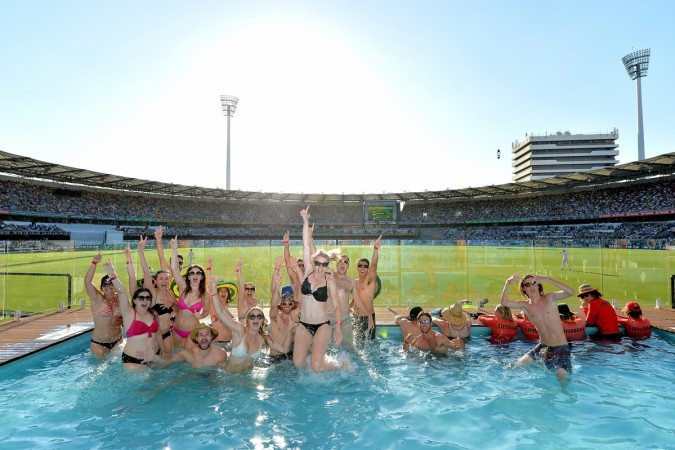 The one-of-a-kind Pool Deck at the Gabba (Brisbane Cricket Ground) will make its debut for the first time in an Ashes series as Australia take on England in the opening Test, starting November 23.
For those unaware, the Pool Deck at the stadium was introduced for the first time during a day-night Test match between Australia and Pakistan last year. Cricket fans and lucky spectators have the luxury of watching the cricket contest from the pool...wearing their best bikinis and swimsuits.
As many as over 140 people can accomodate at the pool deck at any given time!
It is constructed at the bottom of the grandstand at the Gabba with a clear screen between the pool and the outfield.
The 1st Test match of the Ashes 2017 gets under way at 10 am local time and fans (read, only the really lucky ones) have the access of seeing the entire five days of cricket action live while paddling at the pool.
Fans have been asking for tickets to that particular spot, but the truth remains there are no tickets as such allotted for the pool deck. But then how can you get lucky?
Read on to know the rules:
According to the Cricket Australia website, the Pool Deck at the Gabba gives selected cricket patrons the chance to enjoy international cricket in truly unique surrounds by relaxing in the cool comfort of the pool or the lounges on the decks.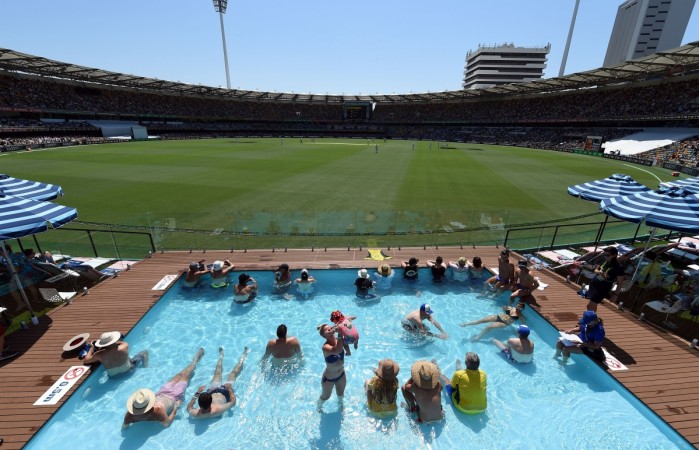 To have a chance to spend some time on the pool deck at the Gabba, fans are encouraged to come to the match in their best pool attire and they could be selected from the crowd for an upgrade to the Pool Deck either by:
Finding the roaming pool deck staff; have your photo taken in your best pool attire and provide your contact details, in case you are selected.
or
Take a selfie with your family or friends showing you are ready for the pool; post it to social media (Twitter, Facebook or Instagram) using the hashtag #cricketpooldeck; make sure your account is public so we can contact you if you are selected.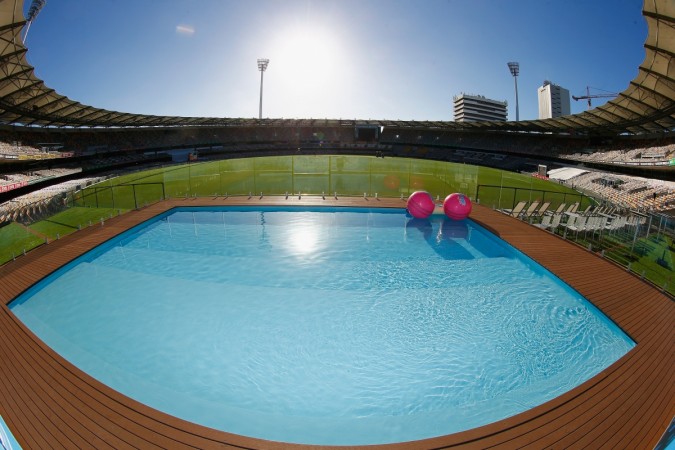 The selection process however is strict. Guidelines to note:
Any unlawful behaviour in accordance with the stadium standards will not be tolerated on the pool deck.
Management reserves the right to refuse entry to the deck.
Anyone under the age of 18 needs to be accompanied by a parent or guardian.
Please refrain from leaning on the railings.
Furniture must not be moved around the pool deck.
Do not throw any items within or over the side of the pool deck.
Please refrain from participating in a Mexican Wave.