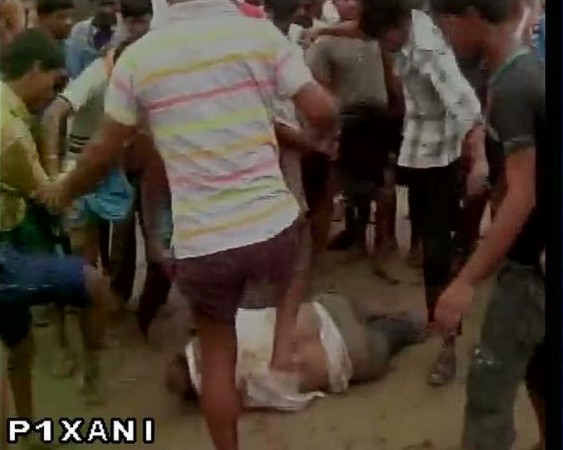 The family of the Nalanda school principal, who was lynched by an angry mob over the death of two students, will reportedly hold protest on Monday.
Devendra Prasad, principal of a private residential school – Devender Prasad Sinha (DPS) School – in Nirpur, about 100 kms from state capital Patna, succumbed to his injuries while undergoing treatment at the Patna Medical College and Hospital (PMCH), Nalanda's Superintendent of Police (SP) Sidharth Mohan Jain told PTI.
Nalanda (Bihar): Body of lynched School Principal brought to Krishnapur Police station,family of principal to protest today

— ANI (@ANI_news) June 29, 2015
The incident took place on 28 June, after the villagers recovered bodies of two DPS students, Sagar Kumar and Ravi Kumar, aged seven to eight, from a water body.
The agitated villagers held the principal responsible for the death of the minors and soon turned violent.
They first torched a school vehicle and blew up the two-room institution using an LPG cylinder kept in the kitchen. Then they mercilessly kicked Prasad and thrashed him with sticks as he was trying to protect himself lying face down.
"Prasad was brutally beaten with bamboos and iron rods in the presence of hundreds of people..." a police official told IANS.
They even took to stone pelting at a police team, led by DSP (Law and Order) Sanjay Kumar, which had arrived at the spot after learning about the violence.
"Six policemen were injured while trying to quell the mob", Nalanda police officer Sunil Kumar told Hindustan Times.
They, however, managed to rescue a severely injured Prasad from the violent mob and rushed him to Sadar hospital at Biharsharif, from where he was referred to PMCH in Patna.
The police have registered an FIR against those involved in mob lynching, Jain said, and added that strict action will be taken against the guilty.
Cause of students' death
The cause behind the death of the two minors is still uncertain. While the police believe the two slipped into the ditch (water body) and died, the villagers accused the DPS teachers of killing them.
"It appears they had gone there to relieve themselves when two of the group slipped and fell into the water and drowned this (Sunday) morning. It had rained yesterday and the water level in the ditch had risen", the Nalanda SP told HT. Four students had gone near the ditch.
According to The Times of India report, the villagers claimed that the students were killed by the teachers "in a fit of rage".
Meanwhile, the police are also trying to verify if the school was affiliated to any board.
"This school is a two room establishment. As of now, I am not sure if it is even affiliated to any board. I have asked the district education officer to find out", Jain told HT.