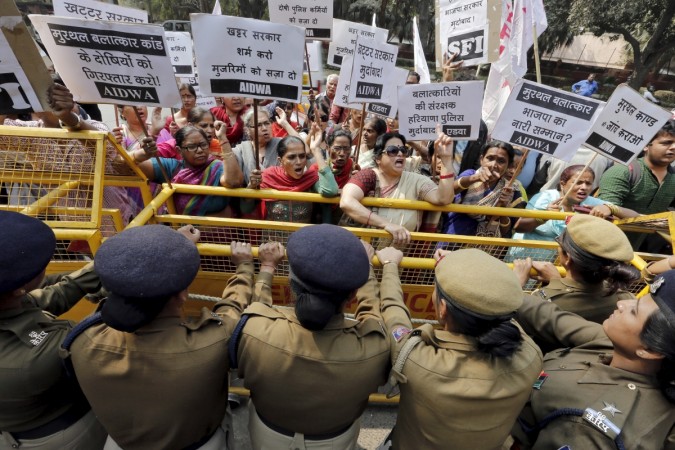 Anger brewed in Bihar after two incidents of gangrape took place in the Motihari district in one week. One of the victims is a 10-year-old girl.
The 10-year-old girl was reportedly raped last Wednesday. She underwent surgery on June 22 night and is stable, NDTV reported. Two people have been taken into custody for the crime.
"They kidnapped her and raped her. When she shouted they put a knife to her throat," the rape survivor's brother told NDTV. He also said they were being pressured to take back their complaint.
Locals in the area blocked National Highway 28 in protest, Mid-Day reported.
Meanwhile, a 21-year-old woman in another part of the Motihari district is in a critical condition after she was gangraped by five men at gunpoint. The incident, which bears resemblance to the Delhi gangrape case in 2012, took place after the woman complained against one of the accused for molestation.
Wooden sticks and a pistol were reportedly inserted into the woman's private parts, following which she fainted. The accused had reportedly left her naked on the roadside assuming that she had died.
The accused, Aliullah, Javiullah, Samiullah, Kalimullah and Nurullah, are on the run, NewsX reported.
Samiullah had allegedly molested the woman earlier and made a video of it. The woman had retaliated by hitting him with a blade, according to the Quint. She had narrated the incident to her mother who then visited Samiullah's residence to complain. The accused's family reportedly did not entertain the her complaint. Samiullah's family also insulted her, NewsX reported.
Later, Samiullah and four members of his family barged into the victim's house and dragged her out. They reportedly gangraped her at gunpoint and committed other heinous acts.
The rape survivor gained consciousness later and approached a police van patrolling the area. The police took her to the local primary health centre. She is currently at Motihari Sadar Hospital.