This weekend will witness the double elimination in the house of Jr NTR's Bigg Boss Telugu. Mahesh Kathi was evicted from the house on Saturday and another contestant will be shown doors on Sunday.
Shiva Balaji, Mahesh Kathi, Diksha Panth, Hari Teja and Kalpana were nominated for elimination from the house. One of them was to walk out from the house this weekend, but host Jr NTR doubled up the curiosity by beginning the Saturday with an announcement about the double elimination.
As he started the show, Jr NTR said, "14 contestants were locked inside the house of Bigg Boss. I'm sad to bid good bye to one contestant every week. But this week is going to be a double shock for me as well as you (audience), as there will be double eliminations this weekend."
Before starting the elimination process, Jr NTR went on take stock of the important developments in the house. Then, he congratulated Shiva Balaji on becoming the captain of the house. He is in the safe zone because the viewers wanted him to be in the house. Meanwhile, he also announced that there will be a double elimination this weekend.
Jr NTR reviewed the developments in the Bigg Boss house of the week. All these weeks, he was seen in a jovial and funny mood while addressing the contestants. But this weekend, he seemed to be serious and was seen giving advice to participants. While doing so, he asked Mahesh Kathi to pack his bag and come on to the stage. He also allowed him to bring along his red bean bag, on which used to relax most of the time.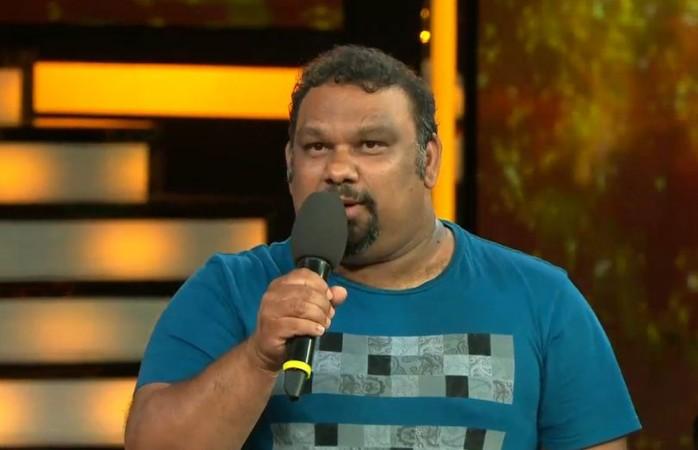 Later, talking to Jr NTR, Mahesh Kathi said that his experience inside the house was wonderful and he would never get it again in his life. As a part of big bomb task, Mahesh pointed out Adarsh Balakrishna, who is made to wash all the utensils used by inmates of the house for a week. Before ending the show, the host revealed that one of the three inmates -- Diksha Panth, Hari Teja and Kalpana -- will be evicted from the house on Sunday.