Young Telugu actor Prince has been eliminated from the house of Jr NTR-hosted reality TV show Bigg Boss Telugu. His eviction has come as a big shock and surprise for many in the audience.
Five participants — Hari Teja, Archana, Adarsh Balakrishna, Prince and Navdeep — were nominated for elimination from the house of Bigg Boss Telugu this weekend.
Jr NTR on Saturday revealed Hari Teja and Archana were in the safe zone, and one of the three participants would be shown the door on Sunday.
Navdeep was made safe from elimination on Sunday, leaving Adarsh Balakrishna and Prince in the danger zone.
Jr NTR revealed Adarsh Balakrishna had committed a mistake in the nomination process of captaincy. Hence, he had lost his Prince, who was eliminated.
Every housemate was shell-shocked as none of them expected him to walk him out of the Bigg Boss Telugu house.
After Prince came on the stage, Jr NTR revealed that Bigg Boss Telugu had received over 2 crore votes this weekend and the fight between him and Adarsh Balakrishna was neck and neck. However, it was the latter who won the race by a small margin.
When the host asked him whether he believe it, Prince said he believes it and agrees with the votes.
Asked what his take on Bigg Boss Telugu is, Prince said: "It has made a big difference in my life because I realised the value of emotions. It is busy life in the outside world and there is little time to feel them. But it was different scene inside the house of Bigg Boss Telugu. If the person sitting next to me is feeling troubled by something, I used to feel it and his problem used to bother me too."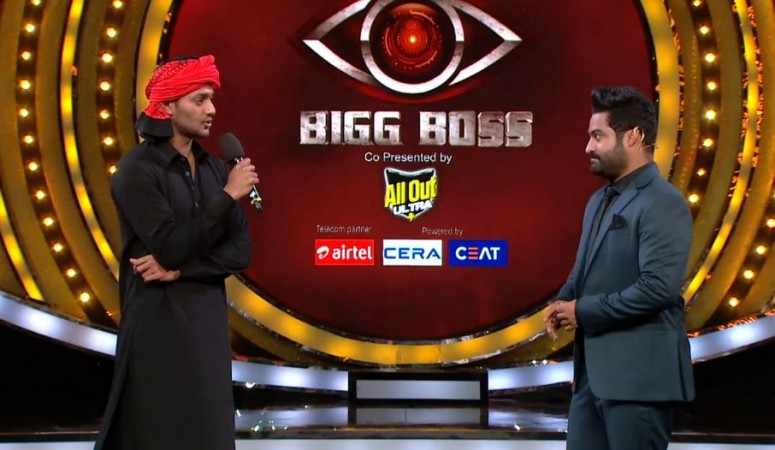 Prince added, "I would think, why am I feeling so much? I finally realised that there are no distractions inside the house, whereas in the outside world, we have mobile phones and other things that distract us. Here, there is nothing think about except the human sitting next to me. It is a beautiful setup. This is the biggest moment of my life. I have not had such a learning phase."