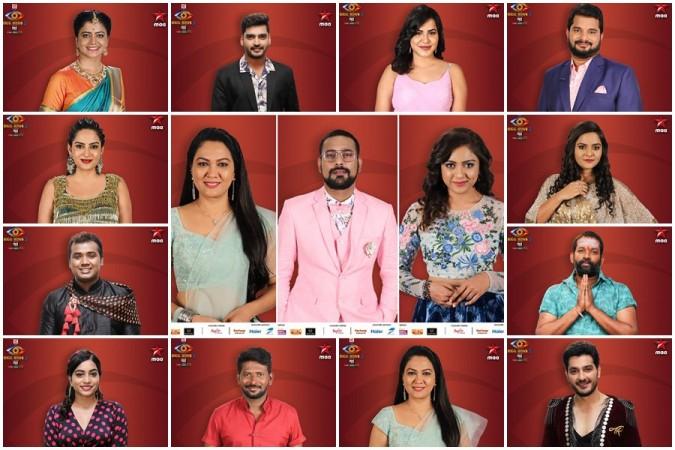 11.00 pm: Junior NTR and Nani were bit nervous during the launch episodes of Bigg Boss Telugu 1 and 2, respectively. But that was not the case with Akkineni Nagarjuna, who never showed it throughout the whole episdoe of Bigg Boss Telugu 3. His maturity was clearly visible as he invited 15 contestants and send them inside the house. He is the perfect fit to host this show.
10.50 pm: Nagarjuna says that all the 15 contestants are locked inside the house. It is time to sleep. Everyone watch the contestants in this house from your house for the next 100 days. Nag bids goodbye to viewers.
10.48 pm: Alongwith his wife Vithika Sheru, actor Varun Sandesh makes entry with a performance as 14th contestant. Nag says that Shekhar Kammula's Happy Days is one of his favourite movies and he liked it very well. Talking to Nag, Vithika talks about his love-cum-arrangement. Nag explains a sitation, where 13 participants are out and they are in the finalist list. He asks them reaction in it. Vithika says that she has done lot of hardwork and she would like to win and Varun Sandesh supports her.
10.40 pm: TV anchor Sreemukhi makes entry as 13th contestant with a brilliant performance. Nag welcomes her and says that she is looking stunning. He asks though she has been busy as an actor and achor for 24*7. She says that she likes the concept of the shows.
10.30 pm: Digital media star Mahesh Vitta enters rocking entry as 12th contestant. Nagarjuna asks whether he has short temper and Mahesh says he has it from his childhood. Nag says that how other participants cooperate with him. The housemates receive him and ask him questions as per the task.
10.20 pm: TV actor Ali Raza enters the house as the elevnth contestants. He shows his six-pack abs. Talking to Nag, he says that he does want to prove anything by entering the house, but want to see how he will sustain inside the house. The housemates are all thrilled to receive him.
10.18 pm: Actress Hema enters the house as the tenth contestants. After talking to Nag, she enters the house
10.15 pm: Punarnavi Bhupalam enters the house as the ninth contestants. He asks how she would perform inside the house. She says that he will have to wait to see it. Then she sends her inside the house, where others receive her well.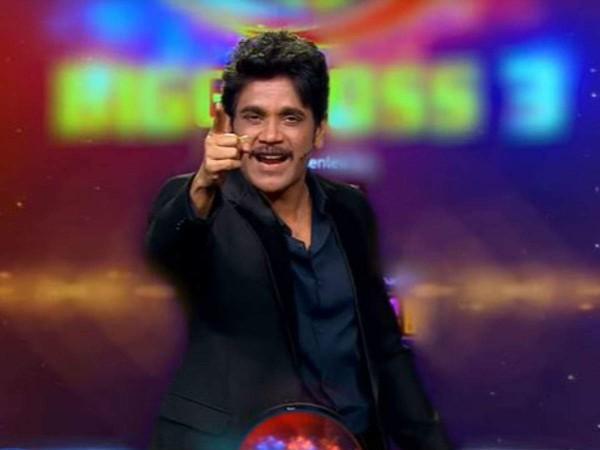 10.06 pm: Nagarjuna introduces dance master Baba Bhaskar as eighth contestant. Talking to him Bhaskar says that he would react to other housemates according to the situation. Other housemates are receive him gladly. Later, they ask him some questions as per the task given by big boss.
10.05 pm: Nagarjuna introduces actress Rohini Noni as seventh contestant. After having a fun conversation, he asks make her a funny entry inside the house. She is excited to the enter the house.
10.00 pm: Singer Rahul silpigunj makes a rocking entry with a performance. Nag says that he likes his rendition of Rangasthalam title track. He asks him to sing a song. After he croons it, he sends Rahul inside the house. The housemates are excited to receive him and ask him to croon a song.
9.50 pm: Nagarjuna introduces Himaja Reddy as fifth contestant. Talking to him, she says that she says that she is funny and would love to entertain everyone. But she does not like to hurt anyone inside the house. After entering the house, others asks her how she will react, when some one irritates her.
9.45 pm: After a break, Nag goes on to introduce the fourth contestant – TV9 journalist Jaffar Babu, who is all excited to enter the house. As per the task, the housemates interview the new entrant.
9.30 pm: After introducing them, Nag goes on to show their reactions after entering the house. Big boss welcomes them and gives them a talks.
9.25 pm: Ashu Reddy enters the stage of Bigg Boss Telugu 3 as the third contestant. Nagarjuna says that she is very beautiful and she is social celebrity. She mentions about trolling, but he says that she shoud not worry about it. He sends her inside the house.
9.20 pm: TV actor Ravi Kishan makes his entry as second contestants. Talking to Nagarjuna, he says that he has come to the show without any plans. Nag sends him inside the house.
9.15 pm: As per big boss order, Nagarjuna picks three chits and asks the assistant to send those three contentants one by one. Shiva Jyothi is the first participants. After the airing of an AV, she enters the stage. The excited to Nag addresses her as akka (sister) and says that like her his father went to Chennai few decades ago. He sends her insides the house.
9.10 pm: After he shows the house, bigg boss asks Nagarjuna to come to confession. He welcomes and asks him about his impression about the house. Later, he gives a task to the host, but the latter does not like it. However, bigg boss asks him to leave the house. Nag leaves the house to return to the show.
9.05 pm: Nagarjuna makes a stylish entry on stage and thanks Tarak. He says that Bigg Boss Telugu is sanskari show, which members of a family member watch together. Later, he enters the house to show each room to the viewers.
The audience is finally set to witness host Akkineni Nagarjuna introduce 15 contestants of the much-awaited reality TV show, Bigg Boss Telugu 3, which will start broadcasting on Star Maa from Sunday, July 21.
Bigg Boss Telugu is one of the most popular TV shows. Its first season, which was hosted by Junior NTR, was a big hit, but the young tiger declined to comeback on the show for its second season due to prior commitments.
The makers brought actor Nani to host the second season in a move which was dramatic and successful.
But natural star Nani too denied coming back on the third season of Bigg Boss Telugu, as he was trolled on social media by the fans of Kaushal and some other top contestants. The producers of Bigg Boss Telugu 3 had a tough time in finding a suitable host for the latest season. They approached several leading actors, including Chiranjeevi, Venkatesh and Rana Daggubati, before finalising Akkineni Nagarjuna.
The makers of Bigg Boss Telugu 3 approached more than 200 popular celebs from films, TV, sports and other fields and finalizing 15 top ones among them to be contestants. A list of participants has been doing rounds in the media for a long time, but the makers have not confirmed any of them. Akkineni Nagarjuna will reveal the list of the participants, as the show goes on air tonight.
Bigg Boss Telugu 3 was expected to go on air in June before it's Tamil version went live. However, the makers faced a lot of problem for the selection of the host, which delayed it by a month.
A couple of women lodged a complaint against the makers, but the High Court quashed the case. Finally, the show is launched tonight. We bring you live updates on the show. Stay locked to this page to see the contestants list.