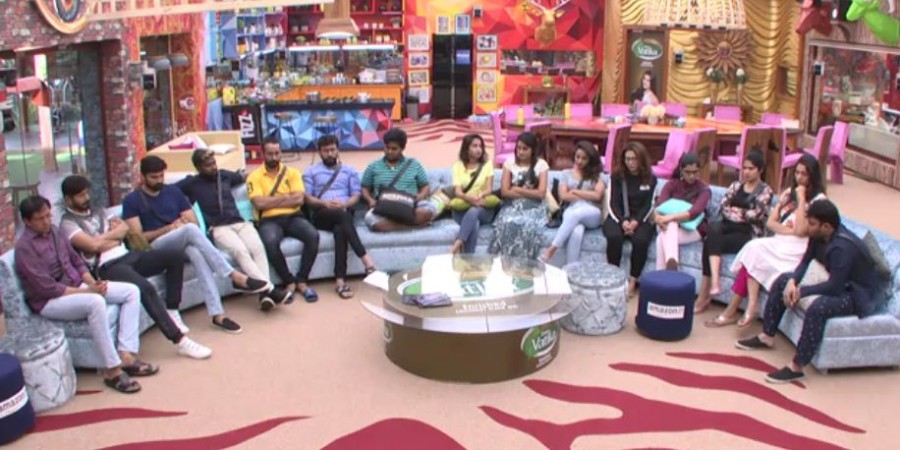 Geetha Madhuri, Ganesh, Tejaswi Madivada, Bhanu Sree and Kireeti have been nominated for elimination from Bigg Boss Telugu 2 in its third week. Everyone is curious to know who will be evicted from the house.
A day after Nutan Naidu was eliminated, Bigg Boss asked all the contestants to gather in the living room and kick-started the process of nomination for the eviction in the third week. He said that some housemates are talking about the nominations openly. Hence, he has decided to make it open this week.
Bigg Boss asked Amit Tiwari to bring tags from the storeroom. Later, he revealed that each housemates would get two tags, which they can put it in the neck of the contestants who they want to be evicted. He also mentioned Amit is captain and he cannot be nominated. Nandini cannot be nominated as she is just a week old.
Ganesh and Kireeti received seven tags each, while Geetha Madhuri and Bhanu Sree were nominated by three housemates each. Tejaswi Madivada received two tags. Big Boss announced these five contestants are nominated for elimination in the third week. TV9 Anchor Deepti and Tanish also received one tag each, but they were saved by the big boss.
IBTimes brings you poll to decide who among the five housemates should be eliminated from Bigg Boss Telugu 5 house. Here are the results of our survey, which shows that Kireeti will be out of the house.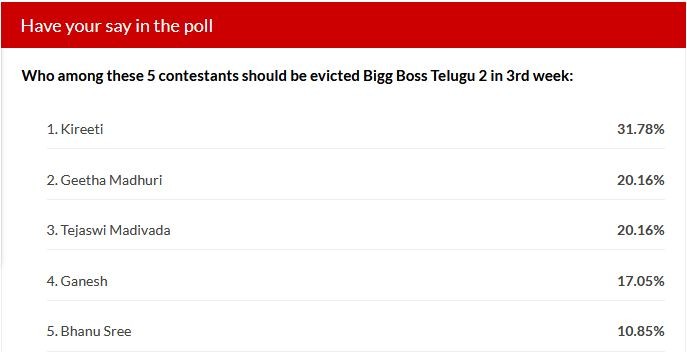 As usual, the name of the Bigg Boss Telugu 2 contestant, who is to be eliminated in the third week, will be selected through the viewers' voting. There are two ways like Missed Call Mechanism and voting through Google. Here are the phone numbers of five nominated contestants and the audience can save their favourite contestants by giving a miss call to their respective numbers.
1 Geetha Madhuri: To vote – Give missed call to 7729998801
2 Ganesh: To vote for Ganesh – Give missed call to 7729998803
3 Tejaswi: To vote – Give missed call to 7729998806
4 Bhanu Sree: To vote – Give missed call to 7729998804
5 Kireeti: To vote – Give missed call to 7729998816
The viewers can also save their favourite contestants by voting on Google. Each audience will get 50 votes and the voting ends at midnight on coming Friday. Here are the steps to vote for your favourite:
Step 1 Click on Bigg Boss Telugu Vote
Step 2 Now in the search page, you can see list of nominated contestant. Click your favourite contestant and move voting bar to make total number of votes.
Step 3 You can cast maximum of 50 votes for a day from one email ID. You are allowed to split the vote - 50 numbers - as per convenience.
Step 4 Click on Submit vote button to finish the process after you cast 50 votes.