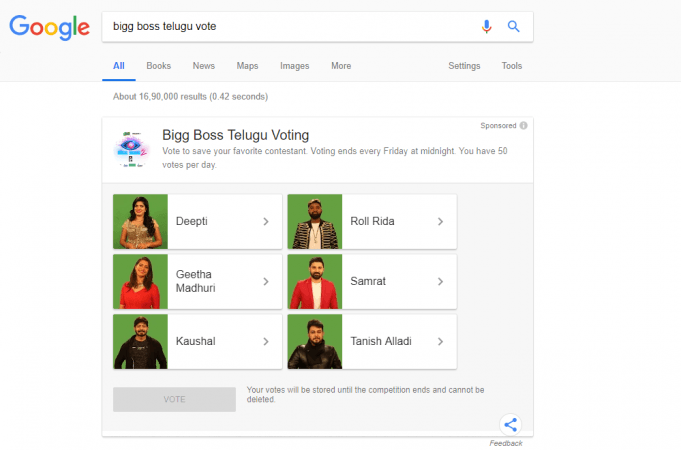 As the show is heading towards the grand finale, every single episode is getting more intense on Bigg Boss Telugu 2. With a few days left in the finale, the housemates seem to be under heavy pressure as well.
In yesterday's episode, Kaushal and Geetha Madhuri were caught breaking the rules in Bigg Boss house. Following this, Bigg Boss had indicated that no housemate was being serious about the rules.
Appalled by the carelessness of the housemates, Bigg Boss announced that all the house members have named in the nominations this week.
So, Geetha Madhuri, Tanish, Samrat, Kaushal, Deepthi Nallamothu, and Roll Rida are all in the nominations this week.
To vote for your favourite contestant, you can choose to do it on the Google browser. Follow the steps to vote for your favourite contestant to save them from the eliminations.
Step 1: Search on Google with the keywords 'Bigg Boss Telugu Vote'. You will see the options appear at the top of the search results.
Step 2: Click on the contestant you wish to vote and mark the number of votes. You can mark up to 50 votes.
Step 3: You can even vote for multiple contestants and mark the number of votes on the vote meter.
Step 4: Do not forget to click on Vote or Submit button after you mark the votes.
You can also vote to save your contestant by giving missed calls to the dedicated numbers.
Here are the missed call numbers to save the Bigg Boss Telugu 2 contestants this week.
To save Kaushal Manda from the nomination give a missed call to 7729998817
Ta save Geetha Madhuri from the nomination give a missed call to 7729998801
To save Deepthi Nallamothu from the nomination give a missed call to 7729998808
To save Tanish from the nominations give a missed call to 7729998811
To save Samrat from the nominations give a missed call to 7729998815
To save Roll Rida from the nominations give a missed call to 7729998807